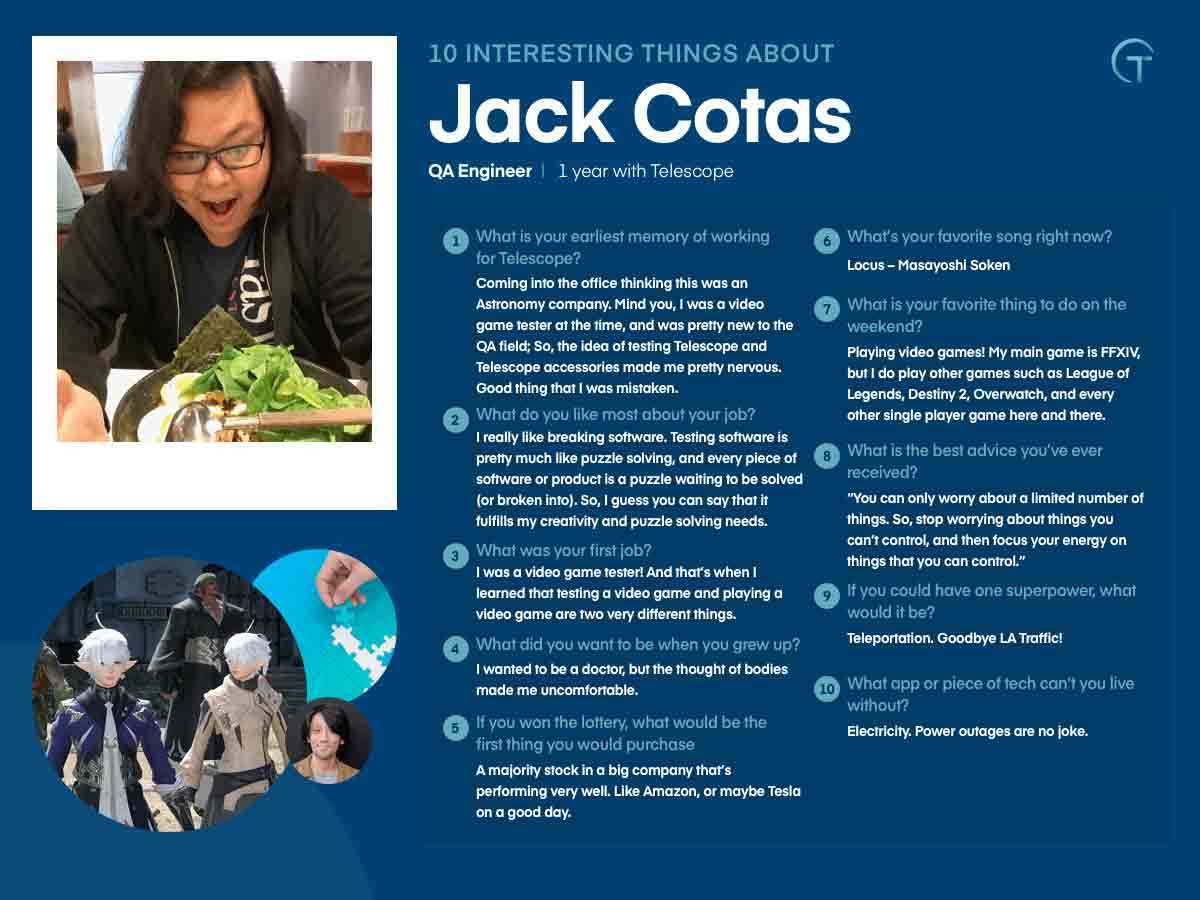 Name: Jack Josiah Edrine Cotas
Title: QA Engineer
Hometown: Laguna, Philippines
Office Location: Los Angeles
Start Date: 02/2019
Q1: What is your earliest memory of working for Telescope?
A1: Coming into the office thinking this was an Astronomy company. Mind you, I was a video game tester at the time, and was pretty new to the QA field; So, the idea of testing Telescope and Telescope accessories made me pretty nervous. Good thing that I was mistaken.
Q2: What do you like most about your job?
A2: I really like breaking software. Testing software is pretty much like puzzle solving, and every piece of software or product is a puzzle waiting to be solved (or broken into). So, I guess you can say that it fulfills my creativity and puzzle solving needs.
Q3: What was your first job?
A3: I was a video game tester! And that's when I learned that testing a video game and playing a video game are two very different things.
Q4: What did you want to be when you grew up?
A4: I wanted to be a doctor, but the thought of bodies made me uncomfortable.
Q5: If you won the lottery, what would be the first thing you would purchase?
A5: A majority stock in a big company that's performing very well. Like Amazon, or maybe Tesla on a good day.
Q6: What's your favorite song right now?
A6: Locus – Masayoshi Soken
Q7: What is your favorite thing to do on the weekend?
A7: Playing video games! My main game is FFXIV, but I do play other games such as League of Legends, Destiny 2, Overwatch, and every other single player game here and there.
Q8: What is the best advice you've ever received?
A8: "You can only worry about a limited number of things. So, stop worrying about things you can't control, and then focus your energy on things that you can control."
Q9: If you could have one superpower, what would it be?
A9: Teleportation. Goodbye LA Traffic!
Q10: What app or piece of tech can't you live without?
A10: Electricity. Power outages are no joke.
BACK TO BLOG & NEWS