When I started writing this blog, we were heading into the final stretch of the NBA regular season and what was going to be NCAA Selection Sunday this past weekend.  COVID-19 was a concern but not yet at the forefront of everyone's mind. I think Ron Burgundy and the Internet probably best sum up how things went from there…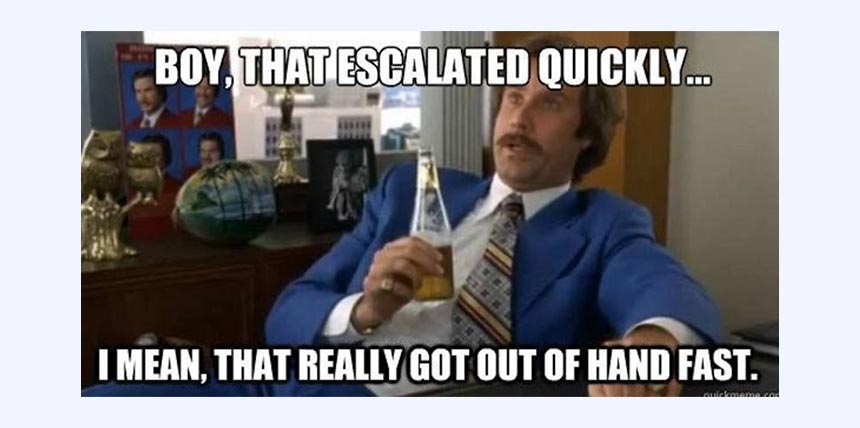 All jokes aside, I had originally planned to focus on the passion around live events like March Madness or NBA Playoffs and how fans of entertainment properties or even brands are equally passionate perhaps in different but as equally powerful ways.  We've seen how gamification through interactive experiences are a brilliant way to tap into it this passion across all mediums and interests. Considering how novel coronavirus has escalated in the US over the last few days (and understandably the response that's come with it), I see value in focusing on a different direction and options available under these ever changing times. Certainly, one business lesson to be learned from all this is that we all need to be ready to pivot quickly as circumstances change.
As of this moment, so many events such as March Madness, NBA Playoffs, SXSW and The Kentucky Derby have been postponed or cancelled. It seems like each morning we wake up to a new production, live events, or even holiday celebration being postponed or canceled all just in the last week. I can't tell you how many conversations myself and/or my team have had about where our clients, partners, and contacts can go from here. We've talked to folks at places ranging from experiential agencies, event organizers, sports leagues, OTT platforms, social media platforms, networks and publishers all wondering when this will end and what to do in the meantime.
There have been slightly different asks across all of the conversations, but most have boiled down to a few universal problems:
How to keep their audiences, fanbases, or consumers engaged in this unprecedented time?

What's the best way to transform an in-person event to virtual one?
Leveraging the unique perspective that comes with Telescope's 18+ years of experience engaging "at-home" audiences, we've had a great deal of time thinking about how best to solve these challenges. Let's tackle them one at a time.
How can you keep your audience, fanbase, or consumers engaged in this unprecedented time?
Funny enough, with some slight twists, a lot of the same gamified experiences and UGC solutions I was originally going to highlight, are still very effective to drive engagement with "at-home" audiences. While everyone is isolated at home for a while, this is a great time for distractions! It's the very definition of a captive audience. Whether it's re-runs of old games or episodes, releasing already scheduled scripted/pre-taped content, or just want to keep connected with your audience on social – Telescope products solution can apply to all. This is an opportunity to offer your fans and viewers the ability to interact at a time where a lot of people are feeling very disconnected.
If you're a sports league or network, you could do things like:
Let fans vote on their favorite games or give them a chance to pick which archived
games might get re-aired.

Create a UGC fan challenge to determine who really is the biggest fan.

Offer ways for fans to submit questions for talent.

Create watch and win type experiences during archived game play to entice folks to
watch, but also to generate sponsorship or data capture opportunities.

If you're an entertainment property, you could do things like:
Create fantasy style, predictive experiences around your taped reality content.

Offer play along experiences that give pre-taped content a live feel.  

Create UGC campaigns to enable fans to submit questions that talent can respond to
about the content.

Let fans vote on favorite repeat episodes to air or which episodes to include in a marathon.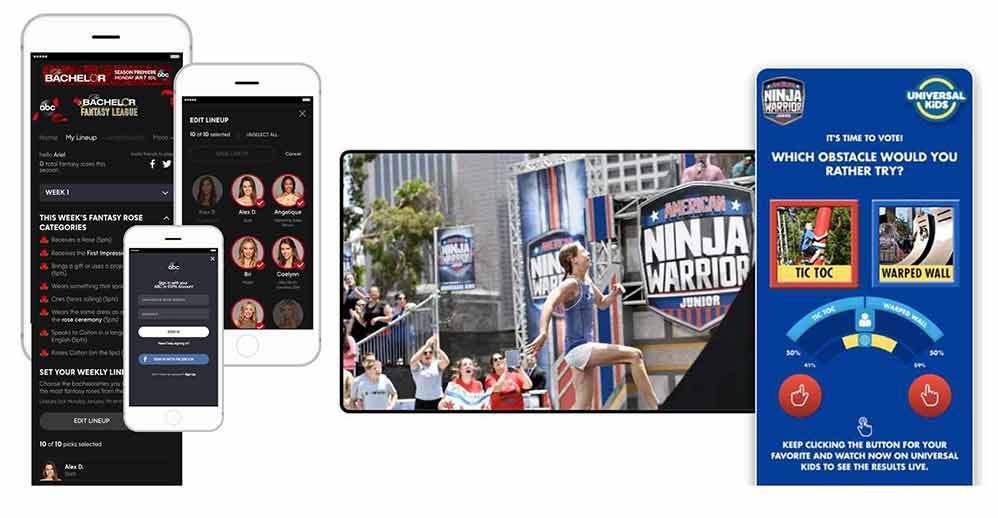 If you're a brand or agency working with brands, you could do things like:
Offer fun UGC tools to let consumers at home create their personalized content with
your branding.

Offer contests and sweepstakes for the chance to win your products at home.

Let users vote to choose new flavors, new products, etc.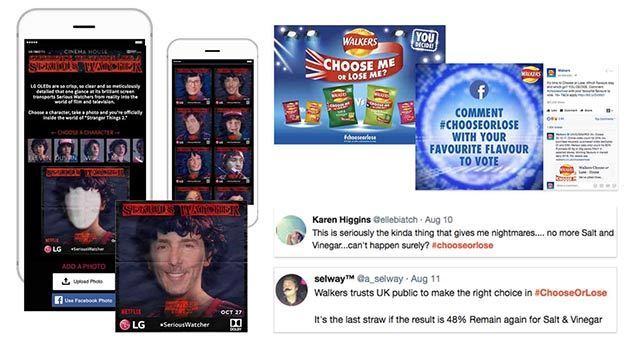 What's your best way to transform an in-person event to a virtual one?
There are always different approaches to a challenge but here is what we're recommending based on our experience (along with some of the thought process that helped us arrive here):
Step 1:  People can no longer come to your event… how can you bring the event to them?
This is where live streaming comes in as a particularly good (perhaps best) option under the circumstances.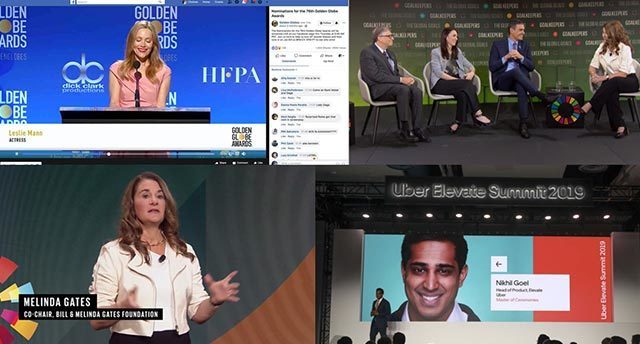 Step 2: Great, you've decided to take the event virtual via live stream! Excellent choice, but now you need to figure out where is your stream going to "live". How do you choose?
The good news is that with the exponential growth of live streaming platforms starting 5+ years ago, you certainly have a lot of options. However, with so many options, it can feel overwhelming figuring out which one is right for you and your event as they all have slightly different pros/cons depending on your desired goals and demographic.
Want a lower touch, lower budget, but less visible destination? Use a video conferencing tool.

Want to reward paid attendees of an event with exclusive access to the content? Stream
to a gated or password protected digital destination .

Want to reach the widest range possible with event content? Run a multi-channel, produced live stream to social channels like Facebook , YouTube , Twitter , and/or Instagram.

Want to create a really rich and immersive interactive virtual event? Stream to Facebook, Twitter or potentially Twitch if the demographic is a fit.

Want to drive the most live viewing experience? Stream to Twitter or Instagram depending on where your audience lives.

Want to maximize your overall reach across live and VOD (with a little help from paid promotion)? Stream to Facebook.

Want to reach a young, male skewing audience? Stream to Twitch.
Step 3: OK, so now you've decided where your event is going to live. How do you execute and deliver the live stream to your viewers?
This is where you have a range of options depending on your budget and ultimate goals:
At one end of the range you have the lowest lift and lowest budget (but also lowest quality) option to setup a webcam, or conference room style camera at the event that will act as your "video production".

At the other end of the range, you have the highest quality (but higher budget) option to work with an experienced and professional production team (either an internal one if an option and available, or an external one that likely also comes with specialized expertise you wouldn't otherwise get).
Step 4: How do you actually get participants to show up to watch and engage with your virtual event?
Marketing is really the key and likely a successful plan will include a combination of paid and organic efforts:
Leverage your existing database (be it email, text, etc.) of event participants and reach out with timely emails, highlighting what content users will have access to from the virtual events, etc.

Utilize your existing social following across platforms to promote the event organically.

Create relevant social UGC campaigns to get your existing fan base engaged prior to the event by giving them opportunities to create and share to their own social networks.  Creating opportunities for fans to submit their questions prior so you have banked  pre-pared content to pull into the stream, ask for votes on options of who might participate or perform, or solicit fan art to be featured.

Tap into paid marketing options on the social platforms themselves (especially if that is the streaming destination of the event).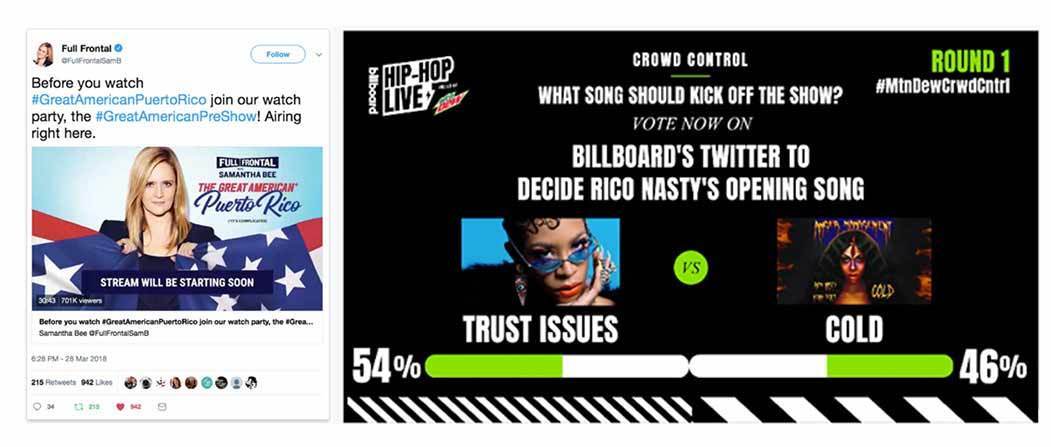 Step 5: You've made it to launch day and have done your marketing due diligence to get people to show up (virtually only of course!). BUT… we all know it's a lot easier to click out of a live stream than it is to leave a real-world event. How can you make sure your event rises above the noise and keeps your participants engaged?
You make it as immersive and interactive as possible. If you are having a 2-way conversation with those participating remotely, they are much more likely to stay engaged with the content longer. Empower the viewers to:
Ask live questions of the talent, hosts, etc.

Impact decisions on what happens live, whether that's selecting topics for discussing, driving which talent is involved, direct some kind of activity or visualization on-screen.

Answer real-time polls on relevant event topics.

Enter competitions (e.g. trivia) or sweepstakes (e.g. instant win) for the chance to earn recognition in the live stream (15 "seconds" of fame) or prizes for participating (while also giving yourself the chance for data capture).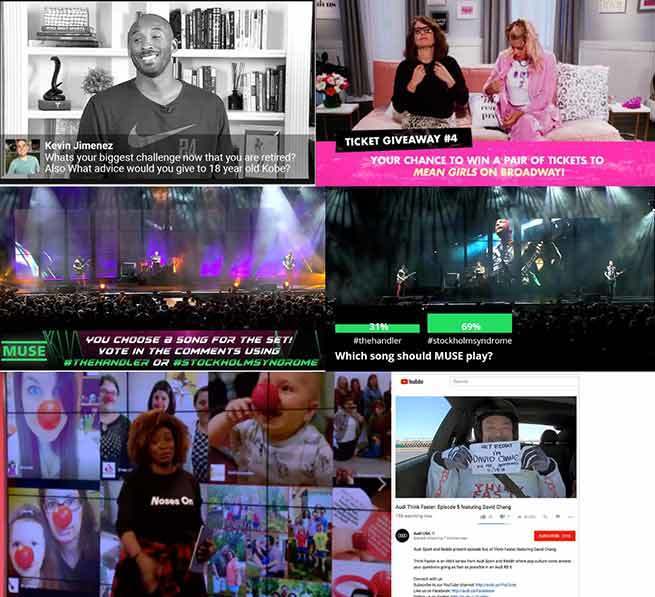 Step 6: Congrats, you've fully executed a successful virtual live event and have earned a well-deserved nap! After you wake up, you realize you also have a full program record of the event in all its glory. What do you do now to maximize all the time, effort, and cost that went into bringing it to life?
Hand off that program feed to your content editors  (or our Telescope editors) to work on various cut-downs and highlight videos optimized for all your social channels (30 and 60 second options work well for us), ideally in short order after the event.

Once ready, push out the new bite sized clips across all your social accounts to extend engagement beyond the live event moment, and if possible, support with further marketing spend. As an added bonus, this can often also help drive additional views of the full event VOD.
Step 7: Enjoy some downtime and feel good about the hard work done to transform your in- person or  live audience event to an engaging and socially driven one. That and of course continue practicing "social distancing" and stay healthy out there everyone.
If you're looking to engage your "at home" audience or evolve your event, and this all makes sense (or even if it makes no sense but you have questions), please feel free to reach out to me directly at michael.porter@telescope.tv or to our entire Sales team at hello@telescope.tv . I know things have gotten a bit strange out there, but we're here to help your business navigate it… unless your "real" challenge is finding toilet paper or hand sanitizer, in which case you're on your own for that!
BACK TO BLOG & NEWS