If there was ever a reason to take off your hoodie, brush your hair and turn on your camera for a video conference, this may be it! (And we know that takes a lot these days). Telescope is excited to announce the upcoming release of our newest product: Breakout Rooms. With the sharp rise in virtual events following the global pandemic in 2020, we embraced the opportunity to develop a dynamic and versatile solution that gives users everywhere the chance to connect with each other and perhaps for some, achieve their fifteen minutes of fame. Used as a stand-alone experience, or within our larger all-in-one Virtual Event Hub product, the breakout room experience can support personalized one on-one meet & greets, small group interactions with host or talent but are equally successful for larger group dynamics such as a hosted conference or play-along campaign. Whether it's a branded convention, speaker keynotes, watch parties, fan reward VIP meet and greets, private lessons or talent Q&A… the possibilities are endless! This highly anticipated product can integrate or pair seamlessly with additional Telescope products such as our immersive Virtual Event Hub , or a suite of our interactive digital tools including fun polls , trivia, bingo and more to make the experience all the more engaging.
Looking back at the plethora of virtual events that we've powered in 2020, one of our most interesting events utilized breakout room functionality to offer fans creative solutions to enhance engagement and overcome the ways COVID-19 was cramping the ability for in-person experiences. In May 2020, Telescope executed a live virtual event across YouTube, Twitter, and Instagram for the Sweetest Prom Ever hosted by Chips Ahoy! and Sour Patch Kids with DJ Steve Aoki, in which lucky high school students were featured within an immersive virtual prom breakout room live stream.  Telescope managed remote full production for this event including sending a loaded video kit to Steve Aoki's house and streaming in the grand prize winner (who won a prom redo once restrictions are lifted) to the dance party live stream. Sweeps winners got the chance to dance the night away with world-renowned DJ Steve Aoki, offering them a one-of-a-kind memorable virtual prom experience as proms all across the country were canceled due to the pandemic. Breakout rooms enabled a classic coming of age milestone to happen and with this campaign exemplified a virtual solution for many high school students to stay connected with their peers and still experience their special night from the safety of their homes.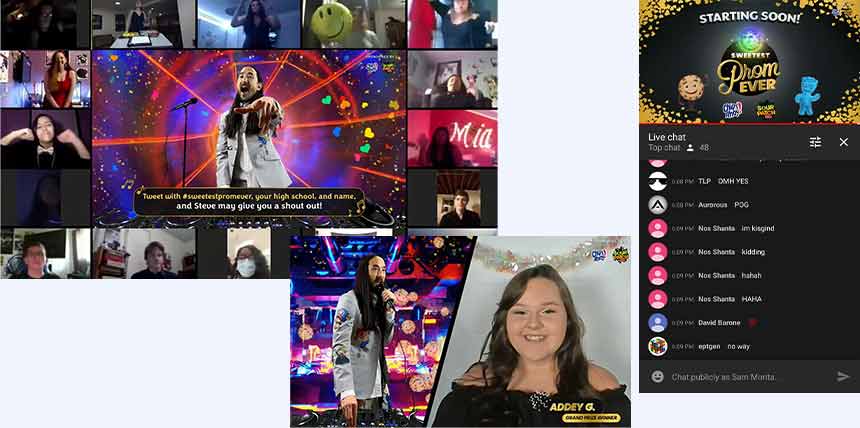 Beyond large-scale public events, we've seen a growing need for breakout rooms in order to fulfill the need for private, more intimate events.  This is very evident in a number of private VIP fan events we've powered with Bebe Rexha for the American Music Awards or Megan Thee Stallion for the Billboard Music Awards.  However, probably the largest growth in requests is coming from the private sector where companies who annually held in-person conferences or partner showcases are in need of the ability to create private rooms and conversations while holding their virtual conventions.  The ability to create private breakout rooms either between a client and partner or perhaps a smaller more fireside chat meeting of a few key stakeholders can now easily be powered within our Breakout Rooms product.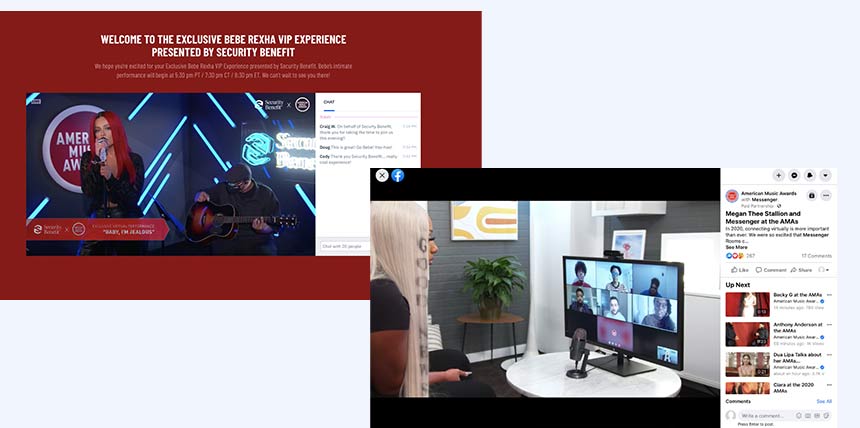 Seeing that virtual conferencing tools have grown to become implemented worldwide, we wanted to enhance our clients' audience engagement with our products with unique and personalized bells and whistles. First and foremost, recognizing the importance of branding, our Breakout Rooms product can easily be skinned to specific brand or sponsor needs, enhancing the event with a more personalized and sleeker look. Prior to entering the breakout room, it can require a (optional) gated entry enabling users to enter a unique code or whitelisted email to access, ensuring exclusivity for events that are more private. A client can designate a talent or individual as host to lead the conversation and interact with attendees or depending on the occasion could even stream a live video in replacement of the host individual. Upon entering, users will see the host video featured as a key focal point with up to 14 active participants showcased around the host box. In addition, for events such as a VIP meet and greet, we can offer a one-on-one view and a four-person view for a truly personalized and intimate experience between fans and talent.  For a seamless virtual event experience, an optional moderator can control behind the scenes who exactly joins, managing attendee's audio and video controls, removing attendees if needed, as well as record or end the event.  A mass audience of up to 500 individuals can attend the breakout room in a viewer-only role to watch the host and attendees interact with the chance of being promoted to join in on the conversation.  Furthermore, the entirety of the Breakout Room session can simultaneously be live streamed to players or social spaces in real-time or at a later date to a wider audience.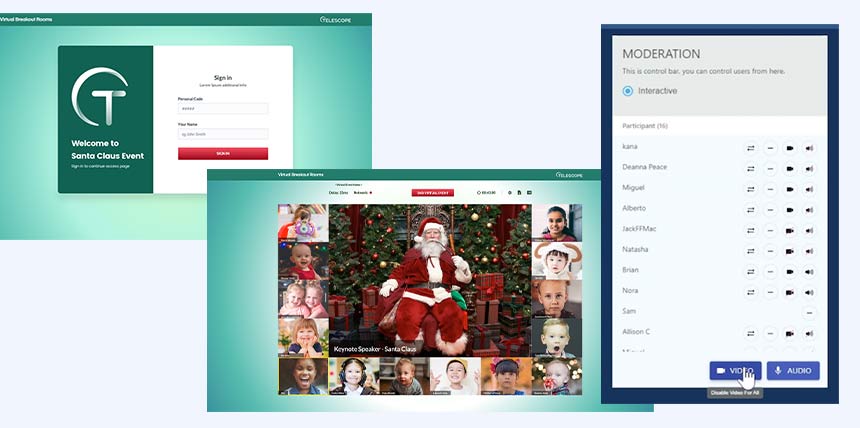 Virtual events and the ability to connect users in a more meaningful way was catapulted into mainstream brand engagement in 2020 and are not going anywhere. Even when life begins to get back to a resemblance of normalcy, virtual events and breakout rooms will be expected experiences for experiential events and conferences to connect as many people as possible especially when they can't travel to the in-person events. Breakout Rooms offer brands and talent a cost-effective way to reach as many of their fans anytime across various geographical regions. It is with no doubt that Breakout Rooms are the newest and greatest companion to virtual events and offer an intimate and exclusive experience for fans and consumers that will soon become a tried-and-true method of connecting people everywhere, anytime.
For further information on our virtual event solutions and Breakout Rooms product, please feel free to contact our team at hello@telescope.tv or watch our 'Virtual Event Hub' video below!
BACK TO BLOG & NEWS