Telescope, we've turned 18!
If you had asked me a decade ago where I thought I or Telescope would be in 2020, I probably would have said there are a lot of hurdles to focus on in 2010 rather than thinking about hypotheticals a decade away. I was thinking about what 2011 was going to look like.  I would have told you that I was concerned about diversifying our product offerings and that Telescope needed to be striving towards giving our clients the ability to reach their audience in new and interesting ways…oh and there is only 18 of us, so how can we even think about ten years in the future. And if you had responded by showing me what Telescope would accomplish in those ten years, I would have been astonished by all the obstacles we overcame, the amazing variety of campaigns we produced and how much technology has changed. I would have asked, "How is all that even possible?"
Where we are now makes sense when you look at the big picture and Telescope's core mission of connecting our clients to their consumers, engaging them with new and innovative experiences and retaining loyal participants.  After all these years I am still so impressed to be a part of a company that started with one employee managing toll-free voting for one project ( American Idol ) that would go on to have offices in 3 countries and produce thousands of projects and partner with hundreds of clients over the past 18 years. At the beginning of this decade we were still the number one provider for fan voting in America, providing client management services and managing SMS and toll-free voting for the largest shows and leagues out there. At the end of this decade, we are still the largest fan voting provider, but taking what we have learned and gained over the past 18 years, we have expanded our service set into sweepstakes and contests, second screen play along, content creation, live streaming, and we even have multiple proprietary platforms we have built and license to our customers.
Let's start with voting , our flagship service we have offered since day one of the company. Vote services remains our largest division of products and solutions, having only SMS and Toll Free to offer the first 8 years of Telescope's life.  But as technology exploded over the past two decades, voting has dramatically grown in method and speed.  We have performed votes via all major social platforms, multiple and varied forms of online and native app , most recently with smart speakers and of course the tried and true, SMS and Toll Free, still remain. In addition to the variety of votes, we have become leaders in high capacity "big data" voting as well as real time instantaneous results.  For example, this past September we powered the worldwide vote for E!'s People's Choice Awards across online, social, and set-top box, which received well over 1 billion votes in the month-long vote. December 2019 marked our 10th year managing the NBA All-Star Ballot , which over the years has changed and evolved across multiple vote mediums be it Twitter, Google search or smart speaker, always with one consistent, Telescope powering and verifying one of their most high-profile fan events of the year.  And as always, we continue to manage the biggest vote shows on television including American Idol (client number one), The Voice , Dancing with the Stars , and America's Got Talent . Over the next 10 years, we will continue to provide the highest level of service and knowledge while continuing to breakthrough barriers we didn't even know were there. Technology is changing at such a rapid pace that I have no doubt in 10 years there will be ways to engage and vote that we could not even imagine but as long as there is talent, there will be fan votes.  Voting allows for fans to truly feel they have an impact in their favorite franchises and brands.  It creates a direct reaction and impact connection that invests a fan like no other and that is not going away anytime soon. 
Contests are the second pool Telescope dove headfirst into and never looked back. Sweepstakes and contests are one of the most effective ways to get a user to interact with a brand. Some of Telescope's early sweepstakes were for a couple of fast food restaurants you may have heard of, McDonalds and Taco Bell .  McDonald's Monopoly become a nationwide phenomenon and Taco Bell saw huge success with a PlayStation give away, both powered by SMS and clever food packaging. High capacity sweeps and promotion campaigns are a staple for Telescope, most recently having run a multi-platform campaign in December of 2019 for Sirius XM where users utilized a Toll Free or SMS number to "dial up their moment" and figure out their perfect SXM channel. Besides utilizing the tried and true methods of SMS and Toll Free, the campaign then pushed users to an online sweepstakes for the opportunity to learn more and win even more prizes through an online scratcher experience. We've ran some pretty crazy contests and given away some awesome prizes over the past 18 years. Whether it be social , online, toll free, SMS, or any of the many other methods we offer, sweepstakes are an immediate attention grabber with a fairly failsafe rate of engagement.  People love free stuff.  That will never change.  The key to sweepstakes in the future is likely not that different than now.  Find new and exciting ways to engage the user, reward the user and give them something to talk about.  If you can make the experience not only rewarding but fun, you have a winner.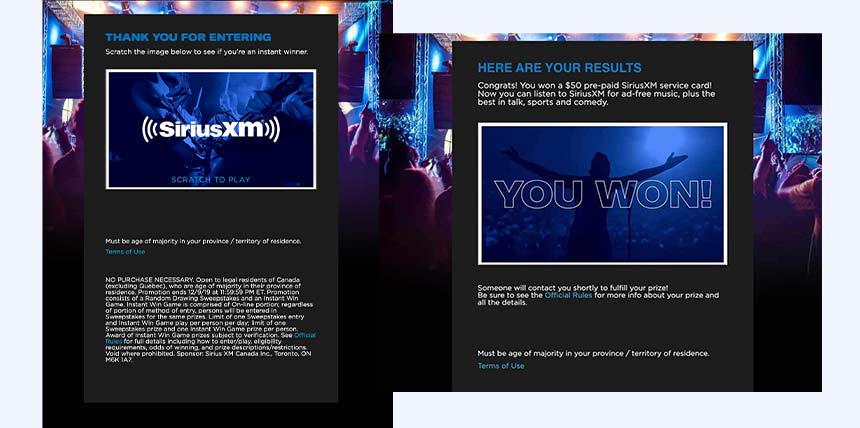 Next up, we have second screen and play along , a service category with a large array of experiences as the only common theme is to engage in connection to another event, experience or promotion.  Telescope has a large number and variety of products such as Trivia , Prediction and Bingo that engage the users and often draw them further into the viewing experience. What's great about this service is there is no demographic or age group it can't speak to and our range of clients who have used these products are a testament to that. Take our Bingo product as a prime example.  In 2014, you could have played it during Adult Swim's final season of Aqua Teen HungerForce , or you may have played along every Thursday night during the holidays this year with " It's a Wonderful Lifetime " in connection to the nightly holiday movie premiers. Another great example is our Passion Meter product, which some of your kids or grandkids could played during the Nickelodeon Kids' Choice Sports Awards deciding whether to slime Kevin Durant or Steph Curry during the live broadcast.  You might've seen this same product on Dancing with the Stars powering the full-scale floor projection that in real time on live TV visualized how people at home were voting during the show's Dance Off between dueling couples. As for the future of play-along and second screen experiences, I know we are at a major turning point as we see new legislation in place to make sports betting legal within the US only helping Prediction and Fantasy applications take center stage in the coming years.  Not to mention the regained popularity of the "choose your own adventure" in movies like Netflix's Bandersnatch showing the power of allowing users to decide their fate of entertainment. The services are boundless and as technology evolves and at home users are engaged at an ever-growing rate, this field's ability to expand, grow, and pivot in new and interesting directions is endless. Telescope is excited about the next story and experience it can share with the fan and we see how this is only the beginning of what is to come with direct user interaction between consumers and brands.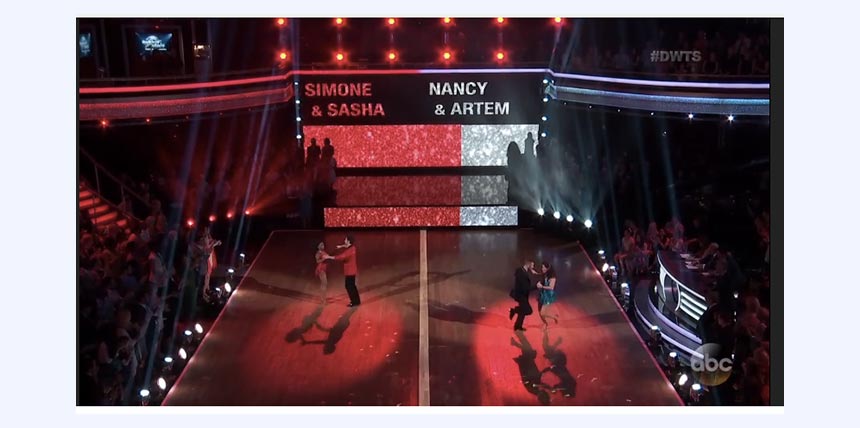 Content creation is another category that has truly come to fruition in the last decade due to the boom in social and digital in our lives. In the beginning of 2010, Instagram wasn't a word that anyone, but the creators knew and now there are over 1 billion monthly active users. With this growth in social media taking a front seat in content and branding opportunities, Telescope has had to pivot more than once to meet the needs of our clients by creating platforms not only for sourcing content but giving consumers tools to create content all within the digital space and controlled branding of our clients.  Two such products Telescope offers are Easy Meme and uPic , where fans can either help create Meme-able content or even upload a picture of themselves and decorate it.  We've helped fans become one of the Stranger Things children or even turned content creation into a vote as we did for the iHeartRadio Award s by casting your vote for fan favorite while simultaneously making a new social avatar picture of you with Beyoncé that you could share out to show your support.  But the most used product under this service umbrella is our Uploader product. One timely example, given the 2020 election year we find ourselves in, is the Fox News Debates of 2015 (when there were still 16 (!) GOP candidates), where users could upload a video or text question asking the candidates questions. Questions were then answered on air by the presidential candidates and this opened up a new and now commonly seen way of fielding questions not only from the audience but the at home viewer.  This same product has been utilized in totally different ways such as when it was used to gather contestants and content for consideration in the competition leading up to the selected subject of the HBO show, Project Greenlight .  At-home filmmakers could upload their video, while at-home judges were able to review and score entries all leading to the grand announcement of the winner personally revealed by Ben Affleck and Matt Damon (yeah, we know some pretty cool people, no big deal).  Over the next 10 years, as we see the next Instagram or Snapchat pop into our life, Telescope will relish in finding the next cool way to harness the power of public created content but also the most engaging way in which to exhibit it. Digital and social media has become such a huge part of our lives especially when it comes to marketing and Telescope will continue to strive to remain at the top of our game while striving to find the next great user experience.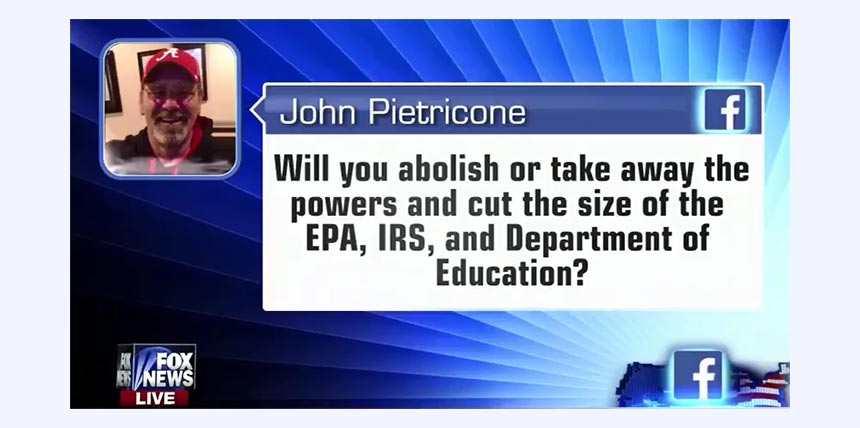 Live streaming was one of the bigger pivots during the past 18 years of business. As a preferred partner of Facebook Live from their first F8 announcement we have never slowed down in our ideation and development into the wider world of live streaming solutions. We now offer full production live streaming across multiple different social platforms including Facebook , Twitter , Instagram, YouTube , and Twitch . It's just a given nowadays that when you watch a live stream with your favorite artist you expect to be able to interact with that artist, whether it be a simple comment on the stream or having the artist directly answer your question. Now there has even been the native incorporation of giveaways or contests in real time, all things Telescope can and has provided in past campaigns. Take this past October 3rd, which was the 15th " Mean Girls Day ". To celebrate and promote Mean Girls on Broadway, Paramount teamed with Facebook and Telescope to live stream the movie while Tina Fey answered fans burning questions, provided commentary and played along to trivia questions that popped up throughout the film. At the end of, live stream participants were entered into a sweepstakes just topping the entire experience off with prizes. Live streaming has changed the market in fast and significant ways and is often a given when brands solidify their media plans for the year. Where will it go from here?  The same engagement we see with live streaming is quickly become an expected offering and experience of interaction with the growth in the OTT market.  Gone are the days of traditional cable and with that departure is also the end of passive viewing.  As the younger generations shape what viewing will become, I can easily see how the precedents we have set and the interactivity we have created in the live streaming space will become only greatly within the social media space but also the expected experience within the streaming.  Telescope certainly doesn't think in a linear way and we imagine streaming services will be looking for even greater out of the box solutions to keep their viewing audiences happy. 
Last but not least, our platforms , the babies we have created and nurtured over all these years rounds out the key service categories we offer. Access to our platforms, be it CONNECT , Campaign Manager or Live Studio are the backbone of almost every campaign we create and used directly by our clients on a regular basis. By creating a user friendly and easily accessed platform, our clients are allowed the flexibility to create, manage and monitor their campaigns in a way Telescope uniquely has been able to provide over the last 18 years. Companies like BBC, Disney, and NBC can login directly, manage their campaigns any day or time with a level of control and flexibility that best suits their needs. I want Telescope to continue to push and evolve these platforms to better assist our clients.  Platforms may not be the sexiest product to discuss but they are the foundation of everything we create and have to offer.  We believe in our proprietary technology and know it has served us well.  Over the next 10 years, we look forward to the way in which our platforms will evolve and allow us to create even more nimble and flexible technological advances required to keep up in this world of engagement marketing.  Our platforms are the engines and we will always make sure the engines are well-oiled machines.
It's been a wild ride for the last 18 years and with a new decade having just begun we see a blank canvas in front of us. We may not be able to predict exactly what will happen in technology, engagement and social platforms but we know one thing about ourselves…we plan to take what we've learned, adapt and skyrocket into the next 10 years.  We will continue to ensure we are always innovating and moving forward with what's next in order to deliver the best experiences for our clients and their customers. All in all, I'm not really sure what to expect by 2030, but I know it'll be one heck of a ride and I'm excited for it all!
BACK TO BLOG & NEWS