With Telescope's new VIRTUAL EVENT HUB , we are looking to alleviate the problems the business world is facing by offering a virtual hub that has the flexibility to power any conference, concert, panel, or any celebration that needs to be produced through a socially distanced manner.  Our Virtual Event Hub product also gives our clients the ability to easily tap into Telescope's additional products to actively engage their at-home audience through interactive experiences from beginning to end all in one central location. While our team has finally gotten to a place where this product is defined and has powered a handful of virtual events since March, it was a ride getting there, and there may have been some back and forth on how much we can actually fit into one product.
When coming up with a new product, the team usually asks questions like, "Who is our target client?" and "What problem are we trying to solve?", but what happens when a global pandemic hits, all social activities are halted, and your target client becomes the entire business world? Now we're faced with the question "How do we build a product that can fit all our clients' needs and gives a comparable experience to events that have been around for decades?" Right from the start of the 'safer at home' order, we noticed that many of our existing (and eventually many new clients) were determined to keep the conversation going with their fans and viewers but were lost on how to pivot their plans in order to bring these events to life virtually. There was no precedent for most on how to do that and for many they turned to Telescope to walk them through a variety of options and tech-first strategies that in the past they may have been hesitant to entertain.
From a product management perspective, we wanted this product to be as robust as possible. However, when you tell your developer that you want to make sure that the product can cover all our clients' current requests as well as a few ideas you think will be helpful in the future, have multiple rotating features, and support both live streaming along with standard products, they shoot you a very large eye-roll and tell you to scale it back because if you make it too expansive of a product, you're going to lose some clients due to budget. Thankfully, as the world settled into this new normal and the panic (both ours and the world's) calmed, our client's true needs and our end goals got much clearer. Even though we were asking our developers for a bit of magical thinking with the initial requests, our new product is an extremely flexible and customizable digital application. Clients can choose if they want their event to be public or private (with a gated login or passcode), support on-demand videos and/or live streaming, choose from a variety of engagement products and fully brand the site to their campaign needs. The Virtual Event Hub provides a destination location to host robust product, partner, or exhibitor information, and we can incorporate additional engagement products such as Vote , Triple Play , Q&As, Uploader , and much more. The key to this product is its flexibility that can be customized to any type of client and to each brand's specific needs. This was at the forefront of our minds throughout the entire product research and development process to ensure no industry was left out from reaching and engaging their consumers during these unprecedented times.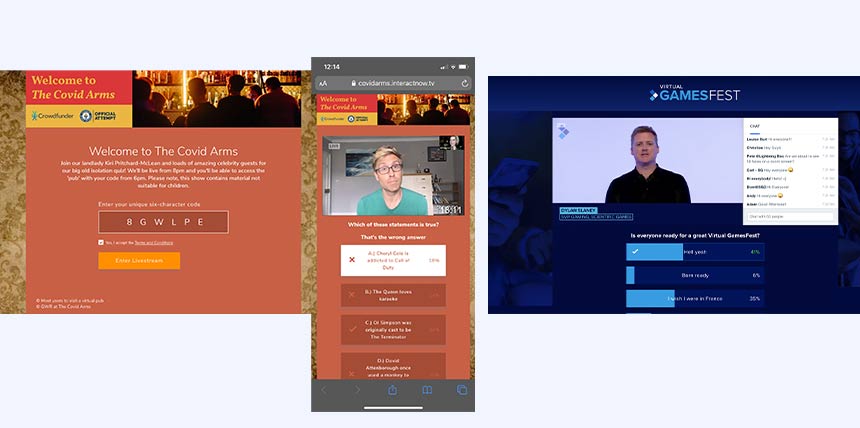 One particular challenge during our product research and development process was to find a live streaming player and platform that worked well for our production team. Over the course of a few months and several successful campaigns, our developers integrated several different video platforms, including Vimeo, Youtube, Wowza, and IBM Watson. The result is that our Virtual Event Hub product can support most streaming platforms, and even offers custom integrations such as detailed analytics to track audience engagement during the live stream.  Once a stream is complete, video on-demand is available for attendees who missed the event or simply wish to rewatch an event at their leisure.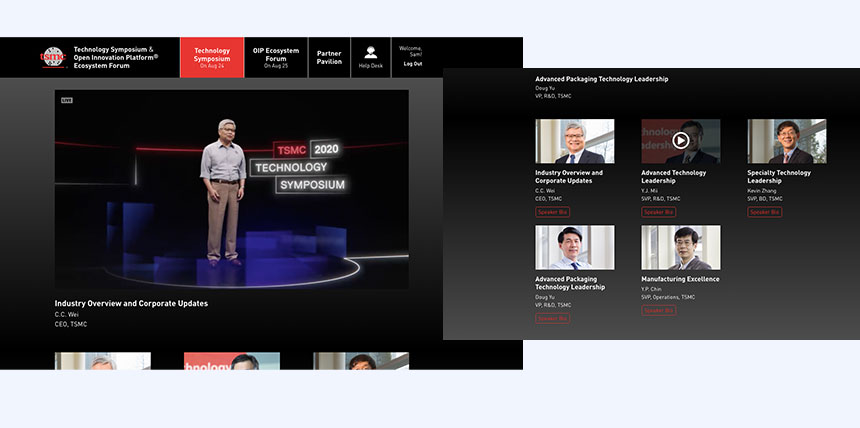 In addition to traditional video options, our product also offers text-based live chat messaging and even video conferencing capabilities through WebRTC, giving attendees direct channels to interact with presenters, exhibitors, and each other. Through a combination of live streams, VOD, text chat, and WebRTC, our product can easily scale to support events of all shapes and sizes.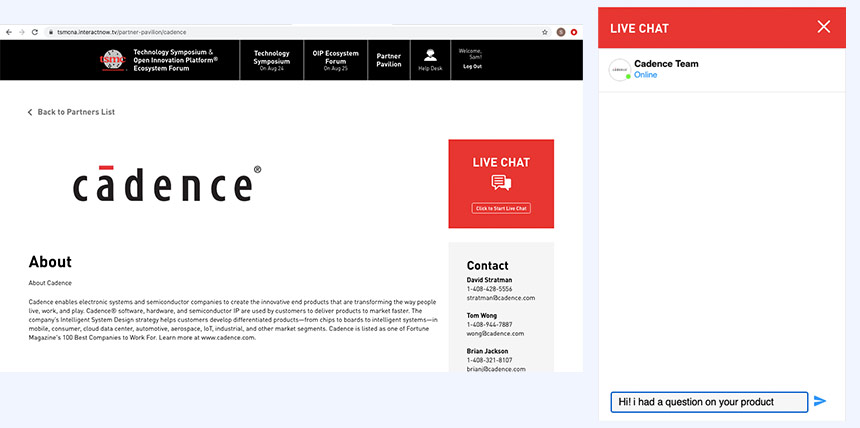 The Virtual Event Hub was recently demoed during our company's All Hands Meeting and a very important question was brought up by a colleague, "How does this live on after the world goes back to normal?" While we're all a bit unsure what 'normal' is going to look like or when that it will return, we can say for certain that virtual events will not be going away any time soon as they are more convenient for users across the world and oftentimes much more cost effective.  We do not see these virtual experiences as simply a hold over during the pandemic but the new companion piece to most events moving forward.  The future remains a bit murky and uncertain, but at Telescope, we are focused and motivated to continue to produce amazing campaigns and experiences our clients can get excited about and their customers love participating with...just virtually.
BACK TO BLOG & NEWS