The at-home audience has never been more engaged or eager to participate than now. In a year where everything feels uncertain due to COVID-19, one thing that has held true is the need for content.  2020 has brought unpredicted viewing numbers to content and fans are searching for new ways to participate and interact with their favorite shows and events.
In a recent Comscore review, they found that the "average in-home data consumption was up 33 percent over the first ten days of May 2020 vs. the same amount of time in May 2019 (May 1-10, 2020 vs. May 1-10, 2019). And this comes after 36 percent and 28 percent year over year jumps in April and March 2020, respectively" (Williams, 2020). Over six months into the global pandemic and with unknown months ahead, it is evident that individuals are increasingly seeking ways to keep themselves entertained and engaged.
As broadcasters, streamers, and marketers look to capture this captivated audience, they must also seek unique ways to provide more to fans during this time beyond the TV screen. Companion products, exclusive content, and gamification are a few powerful tools that provide the fans the added features they are looking for. Fans are, for lack of a nicer term a "captive" audience, they are craving new content as well as new ways to experience content.
Enter, Telescope's newly launched product, Predictor with Leaderboard . The concept is simple, engaging, and addictive. Fans answer a series of predictions (think prop betting in sports) about what they think may happen prior to the event, game, or show and are rewarded points for every correct prediction made. All points are added up on a leaderboard and on display for fans to return post event and determine if they've made it in the top 100 list amongst the biggest fans. In addition to predictions, fans can engage in interactive polls and answer trivia questions, all to add more points to their score. Incentivizing fans with things such as on-air call outs, sweepstakes entries, or unlocking exclusive behind-the-scenes content can all continue to drive fan engagement and sweeten the deal to enhance participation.
With a captivated audience who is engaging, you also find yourself with a new revenue stream and opportunity for sponsors. Integrating sponsors within the product organically through branded content questions, or through more classic take-over methods of ad banners and logos, this product is a clear win-win.
Prediction, trivia, and leaderboards can drive engagement across a large variety of content and mediums. While the immediate thought is Sports, it actually can be an even more popular experience for any genre including award shows, reality and competition shows, scripted content, movie trivia, and more. For die-hard fans or casual watchers, the ability to engage in the experience with a fun play-along experience from home allows the viewer to become connected and engrossed with the brand and the final outcome, whether that be a reward reveal or week on week challenges. But let's start with awards…
Awards Shows
I remember growing up counting down the days for the MTV VMAs. This show is legendary and as a teen, I couldn't wait for the captivating performances but also the stunts that followed. Anticipation for Brittney Spears performances, who would fly down onto the stage from the rafters, or contemplating if Kanye would take another award speech – the possibilities were endless. Fans love an award show and everything that comes with it - the nominees, the red carpet, the acceptance speeches, the guest performances, and the water cooler talk after the winners are announced. Allowing fans to predict the outcomes on who will win, what will happen in the show, who will be the best dressed, and trivia on past shows can keep them engaged in the lead up, show, and post.  All the while, creating brand loyalty and recognition for your content as well as opening up a new revenue stream for sponsorship placement.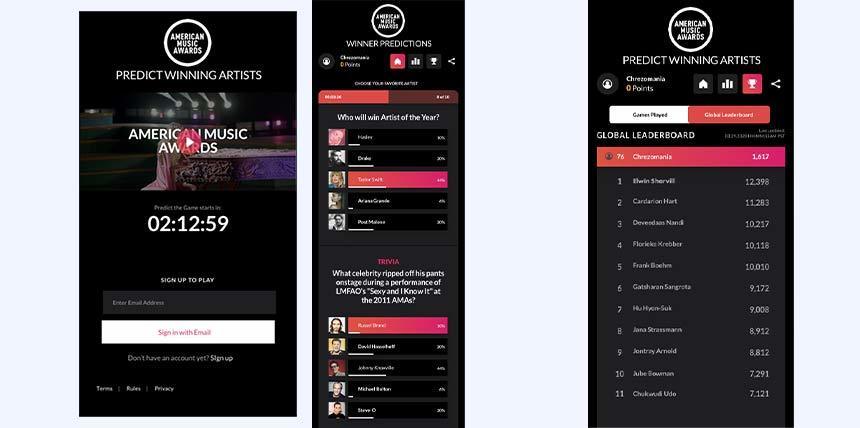 Competition Shows and Reality Shows
This is a no brainer. Have you seen the viewership numbers on the never-ending drama and tear-filled show, The Bachelor? This show takes on a massive audience that hits every demographic. Fans are passionate, they want more, and they were making their own leagues even before we gave them an official Bachelor Fantasy League . Fans make predictions on what will happen in each episode – Who will get their heart broken and be sent home in tears first, who will get a rose, who will get an invite on the despised group date. All of these correct predictions then gain the user points that can be seen in an overall leaderboard amongst the biggest fans. All points were accumulated as sweepstakes entries for a grand prize of an invitation to see the After the Final Rose episode and see their favorite Bachelor stars in real-time! Whether it be live or pre-taped, the options for fan trivia or prediction is endless.  With the return season-on-season nature of such shows is ripe for fan play-along to enhance and solidify the connection between fan expectations and talent behaviors.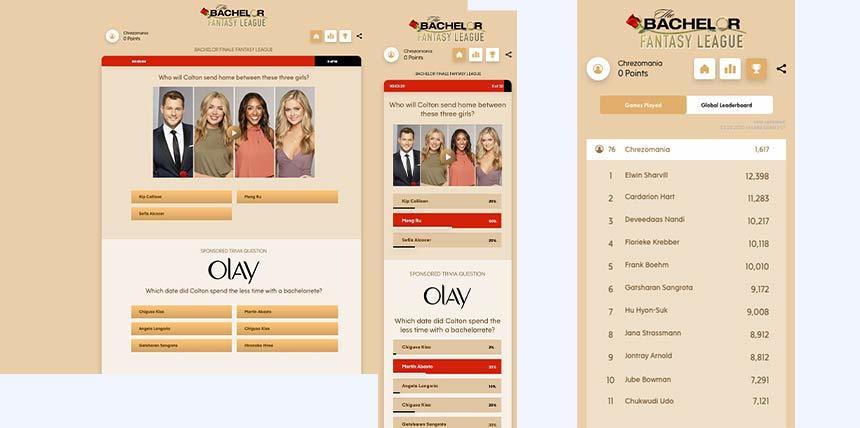 Scripted TV and Repeat Viewing
The sense of nostalgia and comfort I get from a Friends episode is priceless. I have probably watched "The One Where No One's Ready" 1000 times and could recite this line for line. The world is going through content at a rapid pace right now and sooner or later, we are going to run out due to current limitations. Fans are revisiting their favorite shows again - not only out of need for content, but also comfort during these unprecedented times. Giving life to marathon content through trivia can be a great way to capitalize on these passionate viewers who are looking for a new take on the content they love. Whether it be to harness particular episodes, seasons or even a specific character for trivia questions – the options for themed series or sponsor branded content is endless.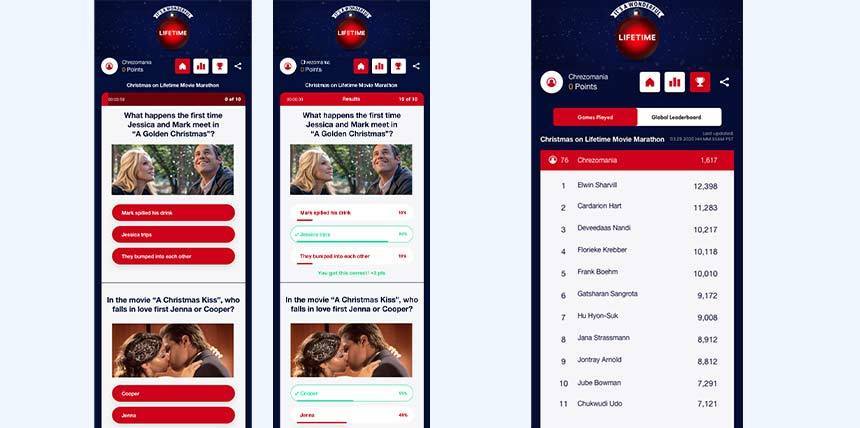 Movie Trivia
As we have seen from Universal and Disney with the direct releases of films this year, the concept of going to the movies has a whole new outlook. Film buffs are hosting their own rendition of cinemas at home, engaging in movie marathons with their loved ones weekly. Fans want to feel that same community from the comfort of their own home but are looking for the added community and engagement. Bringing the play along and fantasy aspect can give added value to new releases or to movie marathons, all while driving the competitive leaderboard community to continue to one up other fans on their movie knowledge. Who is the greatest Marvel fan of all time? Let's test their knowledge and see.  Not only does it open up the possibility for head-to-head fan competition, but fun sponsored sweepstakes could easily help to entice new and old fans alike.  But in the end, the Top 100 leaderboard will create healthy competition and the ability to reward true super fans with their moment of recognition.
Audiences around the globe are at home and crave fun and unique ways to engage with their favorite brands, teams and series. Telescope can take your content to a new level of virtual fan experience, help create buzz around new or existing content and build a weekly returning audience always looking for their next challenge and their next leaderboard to conquer. For further information, click here to download our in depth product sheet for Predictor with Leaderboard, or if you'd like to explore its many use cases, click here for the full genre deck.
BACK TO BLOG & NEWS