In another first to market moment, Telescope is proud to announce it is powering TikTok's first ever US native app vote for the 2020 Billboard Music Awards! Fans across the country will now have access to cast their votes for their favorite 2020 nominees on the BBMA online vote site (as usual) but additionally via the ever-growing TikTok social platform. By simply logging into your TikTok account and searching #BBMAsVote, users can easily see all three categories and each nominee up for vote. It's that simple, that clear and a major step in fan engagement within the TikTok platform.
Within the past year, and perhaps thanks to millions of people stuck at home due to Covid-19, TikTok has risen quickly as one of the most popular social media platforms within the US. It has especially sky rocketed in the valuable 16-24 demo and touts roughly 50% of its audience as under the age of 34. Drawing in 800 million active users worldwide designates this platform as a great opportunity for enhanced audience reach and engagement of millions of individuals everywhere.
Telescope provides over 18 years (and counting) of multi-platform vote experience and with audience engagement being at our forefront, we are excited to power this brand new outlet for voting within TikTok's own native platform. No doubt this newest addition to our capabilities will be a massive draw to brands and shows alike as well as a welcome addition to our existing vote platforms whether it be digital , social , SMS , toll-free , or smart speaker voting methods. The digital landscape is ever-changing, and at Telescope we do what we do best for our clients- pivot with the changes and navigate methods that engage their audiences in a unique, innovative way.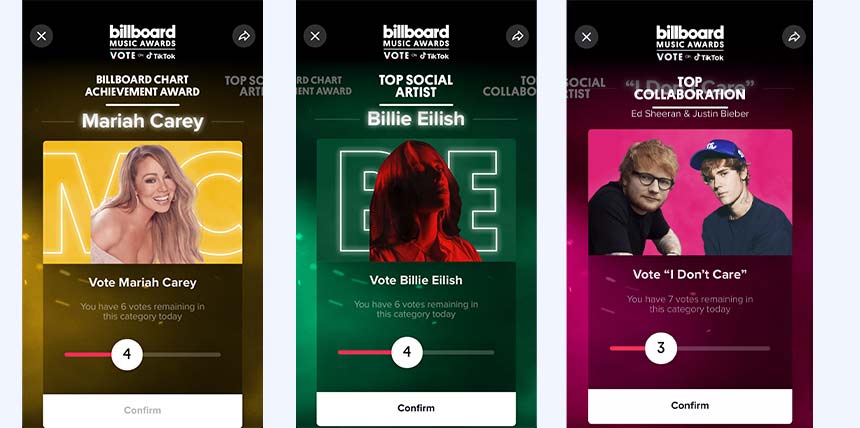 In addition, we'd like to thank our amazing partners at Billboard Music Awards, Dick Clark Productions, and TikTok! We couldn't have asked for better partners to launch this exciting and fresh take on voting.
BACK TO BLOG & NEWS