They say heroes wear many capes. Some are big and strong with superpowers, while others are built like the average Joe, beer belly included. In the world of tech, we know heroes to be pioneers and founders of our most addictive apps and websites like Zuckerberg and Bezos. But, one of the unsung heroes of the technological world is the QA specialist.
Quality Assurance personnel are often a deciding factor in a timely product delivery, customer satisfaction, returning revenue, and overall company reputation. Ever visit a website and notice a button doesn't work, or the menu navigation is wrong? How about opening up an app only for the loading animation to spin endlessly like a front-loading washer? In these cases, it's likely there was little to no QA support who actually made sure the product was in its best condition before being presented to the user. I consider myself a hero in being a part of the QA community for over 10 years, and over my nearly 5 years at Telescope I have had the opportunity to see how our technology has influenced the QA process and vice versa.
In the last decade, the need for quality assurance has surged with the spike in mobile and web application development always chasing the newest and greatest technology and upgrades, and the ever too frequent high-profile website hacks and crashes. Although the QA process at its core is relatively straightforward, there definitely have been improvements in tools and processes over time. When I first began testing software, the majority of the work was centered around manual cross-functional test validation. This basically means simultaneously testing against a variety of physical devices, browsers, peripherals, etc. A lot of the backend testing was done by validating API responses from individual API calls or in layman's terms, making sure the button you click does exactly what it's supposed to do. Telescope QA has grown from only manual testing and physical devices, to utilizing automation scripting and device emulation for various, high-profile campaigns and service products.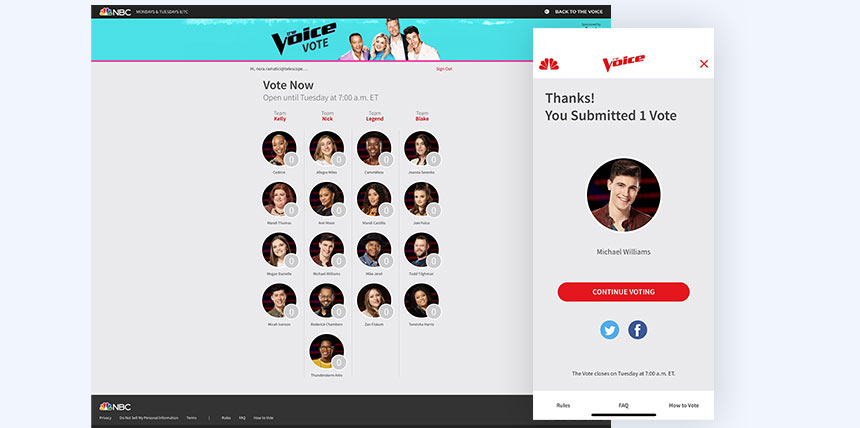 Cross-functional testing also includes making sure all users can enjoy the experience regardless of physical limitations. Our team has developed a thorough test suite dedicated to accessibility functionality across Android, iOS, Mac, and Windows operating systems. We use various screen readers and native accessibility applications to test the user experience for the hearing and visually impaired. This work may not always be the most exciting but it is extremely fulfilling to know we are providing a diverse audience with a great experience.
One of our most popular applications that we develop and produce is the large scale custom voting application, such as American Idol , The Voice and Dancing with the Stars . The first season I was a part of testing the Voice, the iPhone 5c was the hot new device on the market. Now in 2019 there have been more than a dozen new iOS devices released since I first began at Telescope. The Android market is even crazier with about 1,300 different hardware manufactures. To keep up with the growing market, we have constantly expanded our device inventory and desktop support. We currently have over 50 physical devices we test against daily. The use of device emulators, such as Browser Stack, allow us to manipulate dozens of combinations of operating systems and hardware when reproducing bugs, and general end-user testing. This is especially handy when testing the various phases of the user experience, text formatting, and image positioning.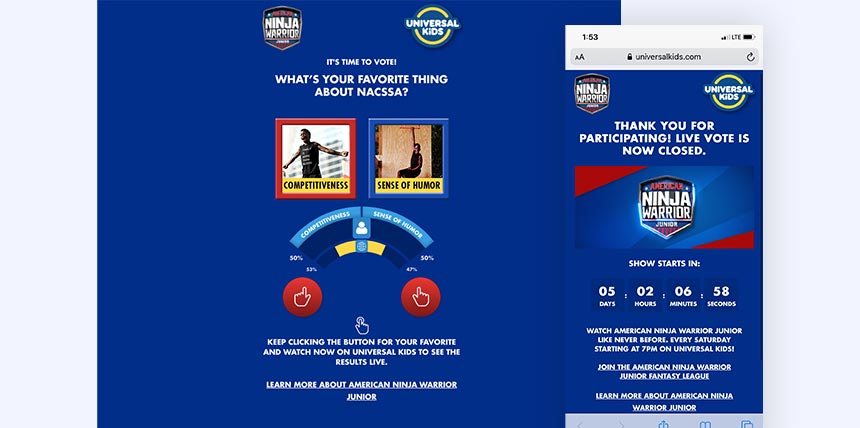 Several campaigns that we develop are created from Telescope's suite of influencer activation products which are customized per client. Usually there are multiple testing cycles across the base product and customized final application before being delivered. American Ninja Warrior Junior was recently launched this month and is based on our popular Passion Meter product. Testing this experience involves vote submissions at various rates (my poor thumbs), validating lots of button clicks on the front end and vote transactions on the backend, amongst the regular UI validations. The majority of the issues we discovered during the QA process are related to usability, i.e. can the user vote fluidly between the vote options, and are votes being respected in relation to the button press. This super fun and engaging experience has also been used for the Nickelodeon Kid's Choice Awards , Dancing with the Stars, and ESPN's Around the Horn .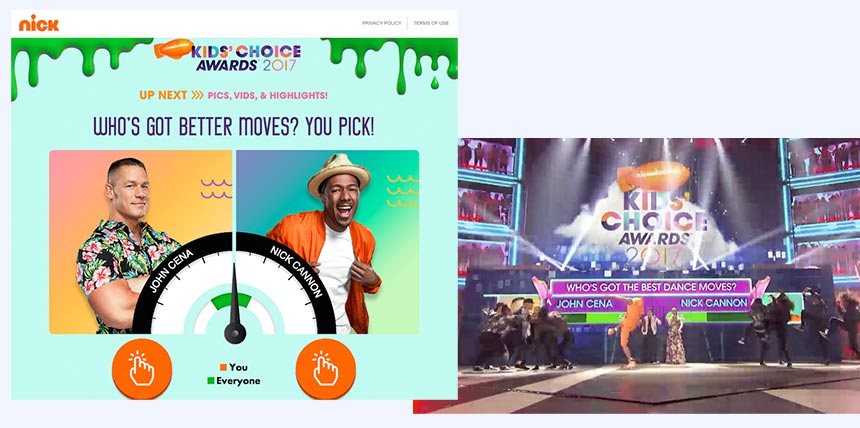 A good example of how we have innovated our QA process over time at Telescope is the addition of an automated testing platform for Campaign Manager . Campaign Manager is our newest self-service platform that allows users to create and manage engaging web applications. The automation platform utilizes a framework that allows us to execute scripted use cases across web browsers. With a platform such as Campaign Manager and its many features, being able to run an automated test suite in comparison to manual regression testing saves us several hours on a testing cycle. Currently, our test suite covers about 80% of the user functionality on Campaign Manager. In previous years for example, when testing Telescope's Live Studio platform (this platform enables live streaming across Facebook and Twitter with real-time graphics and user engagement), we spent hundreds of man hours manually testing login scenarios, error handling, streaming quality, reporting, and more. Going forward, we can refactor the platform to use automation for various internal and user facing products to improve overall efficiency.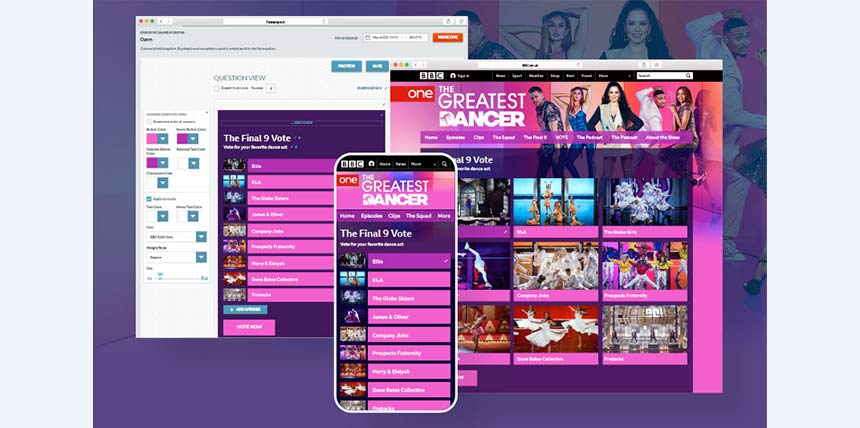 As we enter a more autonomous lifestyle, the need for quality assurance will continue to grow as the human element in all forms production slowly fades away. I mean, someone has to make sure that Skynet doesn't take over the world, right? The goal is simple, make sure the product is perfect for every user it touches. We love the challenge this presents, and we will continue to expand our knowledge base as both engineers and consumers. So, the next time you go to vote on your favorite show like The Voice or American Idol or watch a live stream on Facebook with interactivity or participate in a real-time sweepstakes just know your friendly neighborhood QA has ensured your voting pleasure!
BACK TO BLOG & NEWS