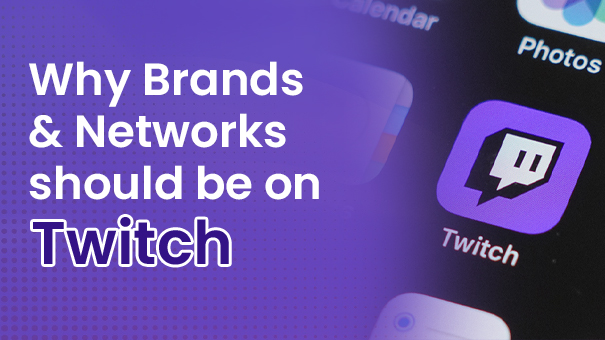 With six major social media platforms to master, is it really worth it for brands and networks to add Twitch to the mix?
For those looking to directly engage with their audience in real time and leapfrog over the competition on saturated platforms, the answer is YES!
Since 2020, the number of monthly broadcasters on Twitch has nearly doubled. (Doubled!) To add to that, Twitch has 140 million unique monthly visitors and 9.2 million monthly active streamers .
Plus, the platform is a genius tool for fundraising , boosting network or brand subscriptions, and building brand awareness using custom assets.
Sounds like a great place to be, right?
Even though Twitch marketing is still in its infancy, managing a branded livestream isn't as simple as setting up shop and letting the views roll in— there's also learning how to navigate the Creator Dashboard, deciding which influencers to partner with, and realizing not every brand or network lends itself to the more raw, unscripted nature of the platform.
So, if you're considering adding this lively platform to your marketing strategy (or adding a Twitch Stream Manager to your toolbelt) here's what you need to know first:
Who's Using Twitch, Anyway?
Right now, Twitch's core demographic consists of 65% male users, 73% of which are under 35. Since the platform originally started as a place for gamers to engage with each other in real time, Twitch is unsurprisingly the preferred social platform for a "late-night" demographic and gamers.
In other words, if millennials and Gen Z guys are your target audience, there's a good chance you'll bump into them on Twitch.
The Difficulties of Twitch Streaming
Like any social platform, Twitch has its "quirks", which is why so many of the bigger brands and networks testing it out are opting to use a third-party Twitch Stream Manager to help them navigate the new terrain.
Since Twitch is all about live interaction, viewers expect their streamers to be candid and authentic— traits plenty of big brands and networks struggle with.
Similarly, because the best streams are natural, spontaneous, and are fueled by fast-paced engagement, it can be difficult for brands and networks to control the narrative. This is why some organizations choose to hand over production and management to a third-party Twitch Stream Manager who has all hands-on deck.
Organizations Who Got It Right
Despite the learning curve, brands and networks with the right audience who leverage Twitch have more than made back their investment.
Take the Jonas Brothers Happiness Continues Live Stream , for example, which broadcast all three Jonas Brothers each remotely from their homes in a multi-platform lives stream to promote their documentary "Happiness Continues".
Amazon Studios partnered with our Twitch Stream Managers here at Telescope to host a live Q&A with their fans, which resulted in up to 31,000 views across social live streaming platforms.
Another big win?
Mission Control partnered with Telescope to host a biweekly Celebrity Jackbox: Games & Giving live stream in hopes of providing comical relief during this unprecedented time and raise money for various organizations helping to combat COVID-19.
Viewers were able to play along, listen to humorous interactions among their favorite celebrities, and donate to charities such as World Central Kitchen, Children's Hospital of Pittsburgh, Greater Chicago Food Depository, and many more.
In addition to donations made by viewers, Jackbox Games donated $100,000 to the
featured organization each week, totaling $1 million.
The bottom line? For brands and networks connecting with younger audiences, Twitch is the next frontier of live streaming.
Ready to tap into Twitch?
Talk to one of our live stream experts to see if you can take advantage of Twitch for your next event.
BACK TO BLOG & NEWS