It's that time a year again… the leaves are changing across the country, people are planning trips to spend time with the people they love most in this world, and everyone is getting extremely existential about how another year has passed in the blink of an eye. This season is often referred to as the giving season! Often during this season, we see a wide variety of companies and brands get in the spirit in an assortment of ways. Some as simple as changing their logos and messaging, but others take the initiative to get behind their favorite charity or cause by reaching out to their customers for donations and creating interactions revolved around awareness. Each year Telescope is fortunate enough to contribute to a number of these amazing campaigns, and be it through FB Live , utilizing one of our interactive sweepstakes products, or creating a completely custom campaign, our clients really remind us what this season is truly about.
There's a number of successful and different ways brands are able to connect their loyal customers with charities that help the less fortunate, or organizations leading in new and inventive ways to make a difference. In recent years, digital and social activations have made it much easier for this connection to happen. Facebook Live has become one of the more common and widespread outlets powered by Telescope. One of the first brands Telescope worked with on Facebook Live was Stand Up to Cancer . Their bi-yearly telethon has been working to fight cancer since 2008 and in 2016 their audience was able to directly interact with the telethon and the celebrities who participate in the telethon via Facebook Live.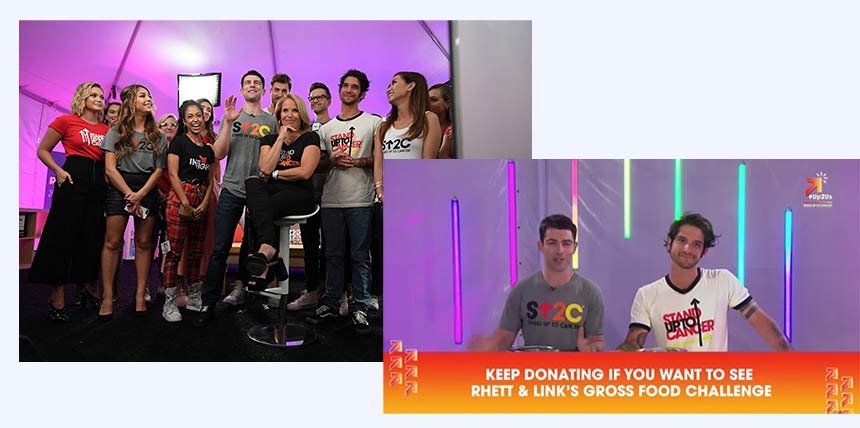 Telescope worked with the celebrity fueled #SU2C team to power both a pre-show digital livestream via Facebook , Twitter and YouTube as well as streaming the main telecast show for social viewers who over the years have become pivotal to reach due to the changing viewing habits and international reach.
Then in 2017, Telescope was lucky enough to be the very first Facebook preferred partner to enable a new functionality for Facebook live streaming - the "Donate" button. The donation functionality allows users to donate while watching the live stream.  Since the Donate button launch in 2017, we have powered numerous live streams with donation capabilities and seen a year on year significant growth in interest and participation as users become more and more comfortable with digital donation through social mediums and two of the charities that tap into this feature are SU2C and Red Nose Day .
Additionally, throughout the year we partnered with the Bill and Melinda Gates Foundation to power multiple live streams for a plethora of causes with donation functionality, just another way this couple is encouraging people to help others out (because pledging $1 billion to empowering women in the workplace definitely wasn't enough ;)). Another client who utilized donation through live stream was City Harvest and Wendy Williams. Their initiative of #SkipLunchFightHunger with Wendy Williams and Chef Marc Murphy, paired the two together live to make sandwiches for underprivileged schools but also amplified their stream by utilizing Telescope's live streaming interactive elements, such as an incentivizing sweeps and live polling , they were able to make the stream more engaging and retain audiences longer in order to maximize their donation potential. They made the simple act of making a PB & J that was going to help hungry children a fun and engaging experience for all their fans on Facebook.
Online experiences and sweepstakes are another great way for brands to reward their followers and consumers around this time of the year. I have been lucky enough to work with Telescope for 6 years and have been fortunate enough to witness, if not participate, in some of the coolest campaigns. A couple of my favorite seasonal campaigns that immediately jump out are the Kia NBA Holiday Sweepstakes and My Giving Story with 92Y. For Kia NBA, we gave away some major prizes during the month of December, including a pair of NBA Christmas game day tickets and a brand new KIA… all wrapped up in the idea of the holidays and giving back to their consumers. All users had to do was come to a website, enter their email, hit enter and immediately find out if they would be the lucky winner watching their favorite team on Christmas afternoon or driving a brand new KIA come the new year.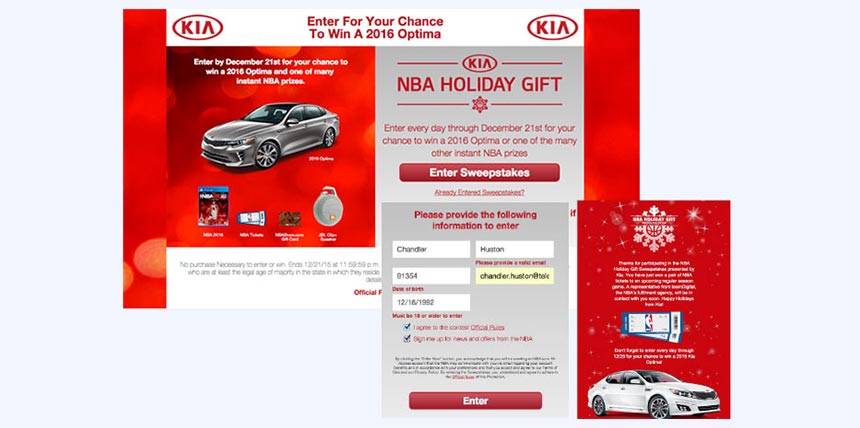 My Giving Story holds a special place in my heart as a truly unique and touching campaign because it gave users across the country the ability to share why they got into "giving" or charity work for a chance to win money for their charity or cause. It was amazing seeing all of the essays, videos, and pictures uploaded through Telescope's Uploader product and displayed in a gallery where the world could learn about these amazing people, their stories, and charities that most had never heard of before! I love a good digital experience that both teaches people something new while simultaneously bringing awareness and connection to people around the world.
Each campaign I mentioned above was brought to life with our standard products, but where it gets extra exciting is when we get to do something super custom. Three that immediately come to mind are BBC's Children in Need, Canadian Tire Holiday Sweepstakes , and CNBC's The Profit. For BBC's Children in Need campaign, users in the UK competed to raise the most money for the Children in Need in each country within the UK. Users were able to come to a digital hub where they could interact with a geo map to see which specific country was leading in fundraising throughout the UK, check out social chatter both from locals and celebrities alike, as well as read stories about how individual's around the UK raised money and awareness in their own hometown! By creating a hub for this major charity event in the UK, they were able to create an evergreen destination that created a space for the at home viewer to stay involved even while the fundraiser was not on air.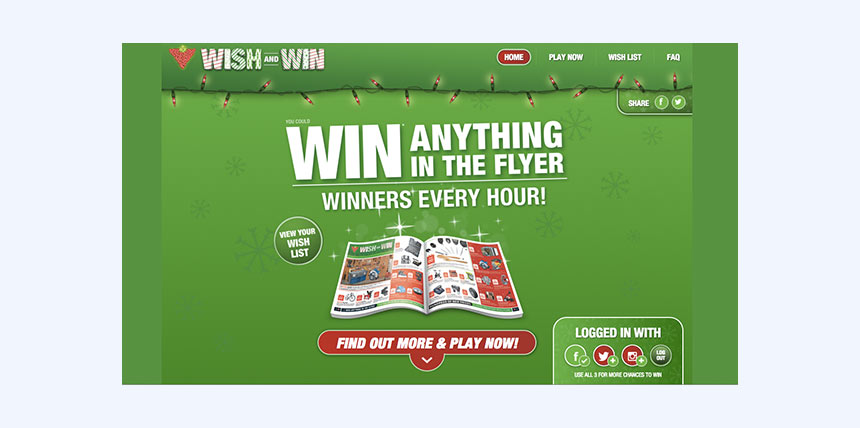 During the Canadian Tire sweepstakes, we integrated with image recognition technology to combine a digital and social activation that rewarded their customers. Readers of Canadian Tire's monthly flyer (the equivalent to a Target flyer that at the time 85% of Canadians read) were able to take a picture of the items they wanted to win and share them across Twitter, Facebook, and Instagram. Users got to find out instantly if they were a winner via a reply to their social media accounts! In addition, Telescope created a custom gallery for each user to see all of the images they shared across social media and share their wish list with friends and family, so everyone knew just what to get them from Canadian Tire that year!
Finally, CNBC's The Profit utilized a custom version of Telescope's Share to Vote product where fans could share videos of their favorite moments from that season to the social media of their choice.  Each share counted as a donation to a local business that The Profit matched. These custom experiences may take more time and love but when they're all said and done, they are some of the most rewarding and innovative work we get to do.
So yes, it's that time a year again…and some may say it's the most wonderful time of the year.  We certainly say it can be one of the most rewarding as it allows us to combine our passion for digital and social with new opportunities to back new causes or reward loyal fans with prizes of their dreams. Here at Telescope we are lucky enough to work with amazing brands and companies and power experiences for users to give back to the world. I love this part of my job and bringing these fantastic experiences to life through our technology. This is only a drop in the bucket of all of the wonderful causes and charities I've learned about through my time at Telescope and it's truly opened my eyes to the great things people can do by simply interacting with a platform or medium they already interact with daily. Happy giving season everyone and don't forget to give back however you can!
BACK TO BLOG & NEWS