What is your favorite season? Spring? Baseball? At Telescope, we're big fans of Award Season, and it's starting to feel like "it's the most wonderful time of the year" (everybody sing along).
This year, we are thrilled to announce that Telescope has been chosen as Finalists for 11 categories in the 13th Annual Shorty Awards , an event that highlights the best of the best in all things social media & digital.
Whether it was fan engagement during these trying times or one of a kind experiences, Telescope is beyond proud of the work we created and produced with our amazing clients in 2020. We pushed the boundaries of social platforms by powering the first vote on TikTok, partnered with Megan Thee Stallion (pre-Grammy Best New Artist win) to connect her with fans in a brand new way, and got people moving and sweating while stuck inside.
Here is a bit more about each nominated campaign:
WNBA & NBA 'Tap to Cheer' Campaign
Finalist for "Best of Digital Pivot", "Best of Sports & Fitness", and "Best of Integration with Live Television"
Not intimidated by the pandemic's full-court press, the WNBA, NBA, and Telescope partnered to power fan engagement via a live real-time 'tap to cheer' tool that allowed fans to not only support their favorite teams but additionally voice their vote for game MVPs and in-arena activations.

This "digital pivot" resulted in over 275 million combined total engagements during the seasons, as well as a 75% increase in the WNBA mobile app downloads.
Click here for the full case study on our 'Tap to Cheer' Campaign.
2020 Billboard Awards TikTok Vote Campaign
Finalist for "Best of Mobile Campaign" and "Best Use of TikTok"
TikTok was the most downloaded app in 2020 ( Source ). So, it was only natural that the Billboard Music Awards (BBMA) and Dick Clark productions sought to harness the power of this ever-growing social media platform for their fan-vote awards.

Working directly with TikTok, Telescope created a smooth and secure integration from TikTok's native app UI into Telescope's voting platform. This seamless experience increased BBMA's reach to fans across 155 countries and propelled TikTok into a new world of native app voting. This may be the very 1st TikTok vote in the US but we are certain it won't be the last!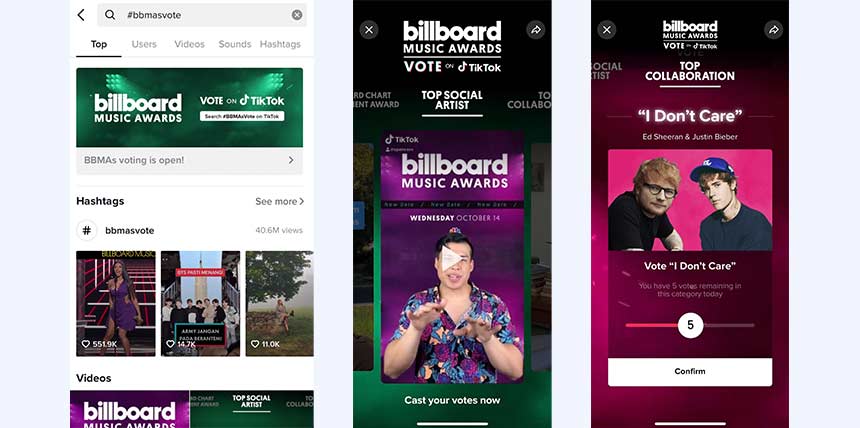 Click here for the full case study on our 2020 Billboard Awards TikTok Vote Campaign.
AMAs Megan Thee Stallion Facebook Messenger Campaign
Finalist for "Best Use of Facebook Messenger"

Megan Thee Stallion could not be having a bigger year. Whether it's the endless "hot girl summer", her recent 3 Grammy wins, or her-oh-so-subtle collaboration with Cardi B, Megan is on everyone's minds. So even getting the chance to power her AMAs pre-show Facebook Messenger Meet & Greet with a few lucky fans was exciting enough for Telescope. However, we're thrilled that others share excitement with this recent Finalist nomination.
Our team at Telescope went full "savage" with the production to create a fully remote but thoroughly engaging backstage experience, giving "hotties" exclusive access to Megan where some of her biggest fans got the chance to chat directly with her, ask their burning questions and even receive some life advice.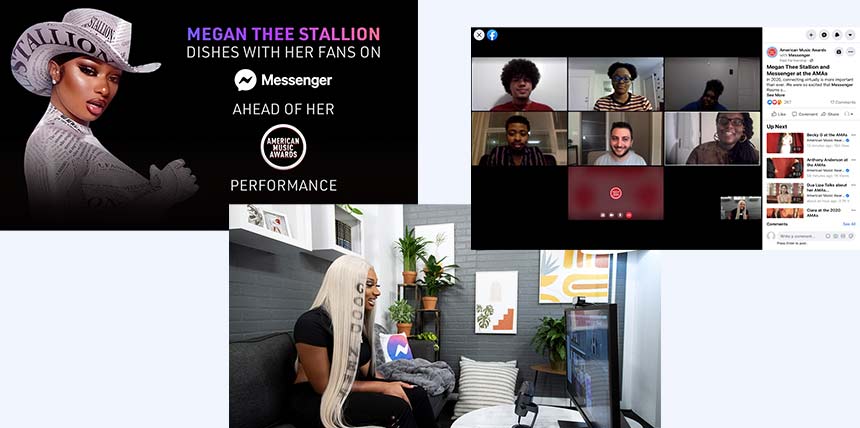 Click here for the full case study on our AMAS Messenger Room Meet and Greet Campaign.
MOVEMENT Live by Michelob Ultra
Finalist for "Best of Branded Series" and "Best of Wine, Beer & Spirits"
MOVEMENT Live by Michelob Ultra had been a successful in-person wellness & fitness festival prior to the pandemic. Obviously, those in-person experiences came to a sudden halt last spring but the need for people to have an outlet for their energy, stress, and wellbeing only increased with the lockdown. Enter the powerful collaboration of Michelob Ultra, Mosaic, and Telescope to bring those workout experiences directly into the homes of their fans.

Utilizing Telescope's years of experience with remote production and live streaming services , Michelob Ultra was able to achieve their fan engagement goals, resulting in over 28.8 million views, 236 million digital impressions, and $187,000 raised for 21 local gyms and studios.
Click here for the full case study on MOVEMENT Live by Michelob ULTRA.
Additionally, we are excited for a number of campaigns with Finalist nominations submitted by our clients that we are proud of having powered or partner on...
STARZ's Countdown to #powerghost Pre-Show Event - Finalist for "Best Use of Twitter Video"
MTV's 2020 Video Music Awards - Finalist for "Best in Live Events"
E! People's Choice Awards - Finalist for "Best in Live Events"
Telescope is always thrilled to provide the best products and services for our partners no matter what the situation or challenge. We'd love to discuss further how to help you engage and connect with your fans in a unique way... and who knows, maybe even win an award.
If you have any questions on how we can help you connect and engage your audience, reach out to us at hello@telescope.tv.
BACK TO BLOG & NEWS