As the warm days have finally gotten cooler and the exclusive holiday deals have found its way into our inboxes, "the most wonderful time of the year" is yet again approaching…but with a bit of a twist this year. As the world sits in the midst of a global pandemic and has been for most of 2020, it is safe to say that this holiday season may be unlike any other past holidays we've had throughout the years. We already see some pivots happening right before our eyes, for an instance, holiday shoppers are starting their gift shopping earlier than ever with online purchases skyrocketing. Furthermore, there will be smaller gatherings with fewer travelers and simultaneously, brands and companies will have to transform their in-person holiday events virtual or better yet, strategize to reach their at-home audience efficiently and successfully through unique and innovative approaches.
Thankfully, at-home audience engagement has been Telescope's expertise years before the pandemic hit, allowing us to help our existing and new clients pivot to reach, engage and retain their target audience virtually, just in time for this season of giving. Whether it be a fun holiday themed vote , a virtual VIP meet & greet with Santa Claus, an interactive sweepstakes play along, we have a variety of fun solutions this year to spice up the holidays for your at-home audience.  Here are just a few of our virtual solutions to still get you and your audience in the holiday spirit and spread some at-home cheer!
Virtual Meet & Greet with Santa
The annual tradition of children meeting Santa Claus and sharing what is on their Christmas wish list may be a bit difficult this year due to the global pandemic. Rather than scrapping this special 'only- happens-once-a-year' event altogether, this moment can still come to life by hosting a virtual meet & greet with Santa via our virtual Breakout Rooms product. Children and their families everywhere can come together to meet Santa Claus from the safety of their homes and still be able to chat directly with him, take some memorabilia photos and of course give them an opportunity to unveil what they'd like to receive this Christmas. Additionally, the experience could be elevated further by streaming a Christmas classic to make it all the more special and one to remember. Many have met Santa a few times in their lifetime, but how many can say they watched a film with him?!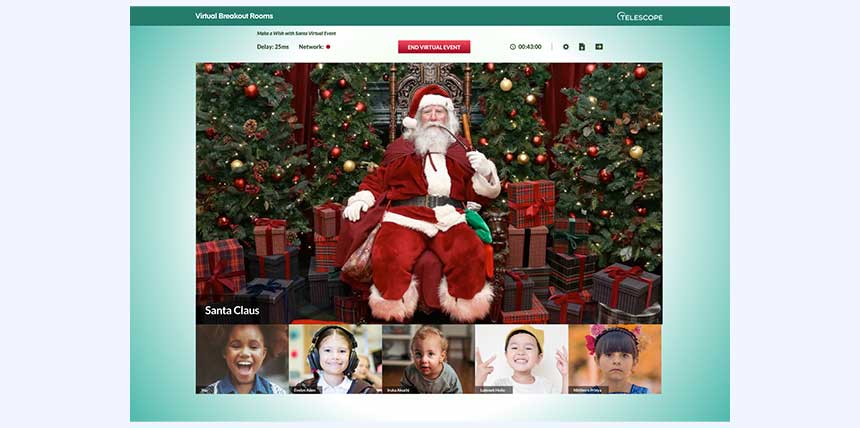 Countdown to Christmas Advent Calendar
The very first Advent calendar dates back to the 19th century in Germany and since then has been enjoyed by many all around the world as they countdown to Christmas each year. As many people are making these calendars a yearly tradition with their loved ones, it has grown in popularity and so much so that they even make ones for pets. Yes, I said pets- even my dog was gifted one last year (pet friendly of course)! As everyone's mother, brother, cousin, and even dogs seem to love them, there's no better way to engage your at-home audience this holiday than a digital, easy to play advent calendar customized to your brand. Not only is this an enjoyable way to give back to your audience or fans via prize sweepstakes (coupons, special deals, gift cards, etc.) but also incentivizes them to return daily and share this play-along with their loved ones which in return leads to an increased social buzz around your brand.
Movie Night BINGO
There's something very comforting about snuggling up on the couch watching your favorite holiday classic during the winter season. I've lost count on how many holidays I've spent watching Elf for the 1000th time or if I really felt like getting into the holiday feels I'd commit to an afternoon Lifetime marathon. As films seem to get people in the holiday spirit year after year, we asked ourselves "how can we enhance the engagement of the at-home audience and create a fun play along experience for them?" This is where Lifetime Bingo came in to play. For the past couple holidays, Telescope has powered #ItsAWonderfulLifetime Bingo where fans had the ability to tune in to the weekly Lifetime movie and play along simultaneously to a bingo game customized and composed of various movie moments unique to the film. Each week fans relived their childhood favorites, played along to a fun game of Bingo and returned weekly in hopes to win the sweepstakes prize. This is a great way to engage and retain your audience each week, as well as widening the audience reach with unique play-along experiences.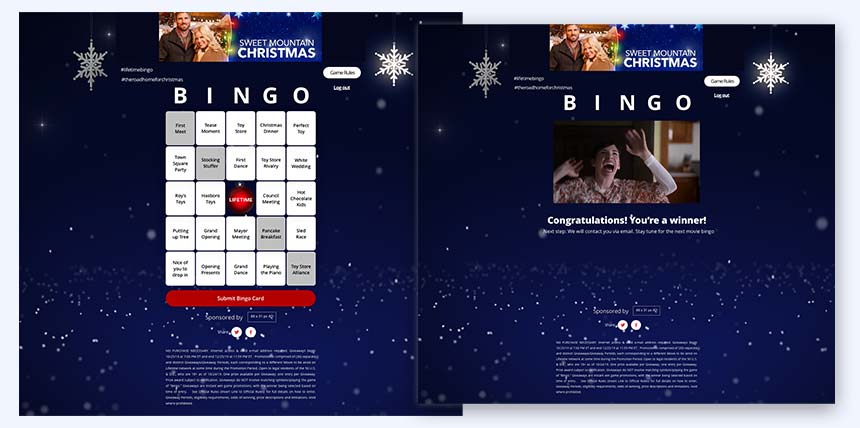 Cascading Holiday Fan Content
User generated content (UGC) allows fans to express themselves through various ways and drive brand engagement. For an instance, the engagement between at-home fans and brands have been showcased through many of our fun campaigns that we powered in the past including DC FanDome Fan Wall , Scotiabank #Hockeyday , Wonder Woman , Masked Singer Social Hub , which all leveraged our Fan Feed and Social Wall content creation products. At-home fans everywhere had the chance to participate in these interactive campaigns by simply uploading their content (whether it be photos, videos, text, etc.) accompanied with the branded hashtag via social media or through the brand's online website. In the moderation phase, submissions were approved and disapproved, ensuring that the best and fresh content were displayed onto the cascading digital wall (or online fan feed) in real-time. This can be replicated during the holidays by hosting Christmas competitions such as Best Ugly Sweater or Best Cookie Decorations with unique branded hashtags for enhanced brand awareness and audience reach. Most importantly, it will give fans and audiences a creative method to engage with their favorite brand.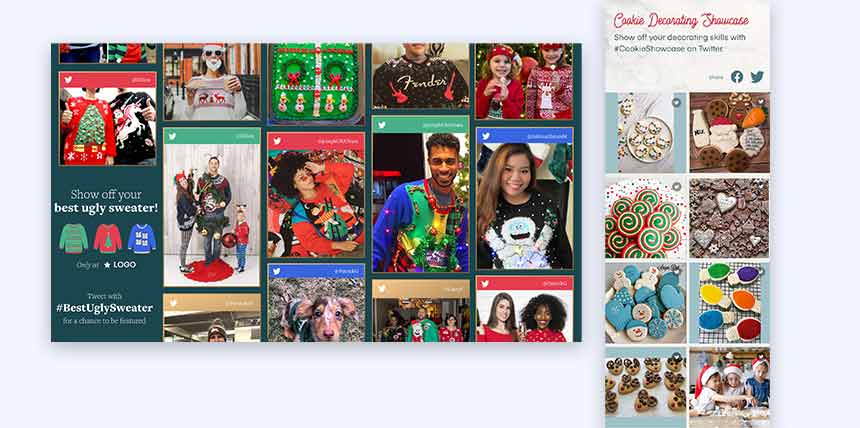 The holiday's quickly approaching but you still have time to engage your at-home audience. We have many more holidays solutions up our sleeves, so if you are interested in finding out more contact us at hello@telescope.tv for any information regarding our products and services! We wish everyone a happy holiday.
BACK TO BLOG & NEWS