As we celebrate our 18th birthday at Telescope, this current situation that the world faces is reminiscent of the beginning of our story. Six months after the tragic attacks on 9/11, a few things helped the world heal; sports and the birth of reality tv. Telescope was created to power Season One of American Idol and provide a much-needed distraction to audiences across the country. 
Then the COVID-19 pandemic hit and we quickly problem-solved the best ways to help pivot for our clients. We reimagined concepts and converted events and activations by using our digital, live production and virtual solutions. As someone who spends every day selling into the brands and agencies, I am so proud of how we have been able to flip a switch and create amazing results. The feedback has been incredibly positive, and the results have been excellent.
Early into the "safer at home" initiative, Telescope saw success when our Bingo product met audiences in two different ways. We invited some of our clients to participate in the newest version of the product: interactive live-streaming Bingo. We turned photos of employees and clients into Bingo cards, created an interactive Bingo board, hired our SVP of Biz Development to be the host and gave away prizes to the winners. We also used our standard Bingo product to engage the Buzzr TV fanbase. Every day for a week, users would log on to get their personal Bingo card and watch for "moments" during the Buzzr TV afternoon programming block to see if their card was a winner.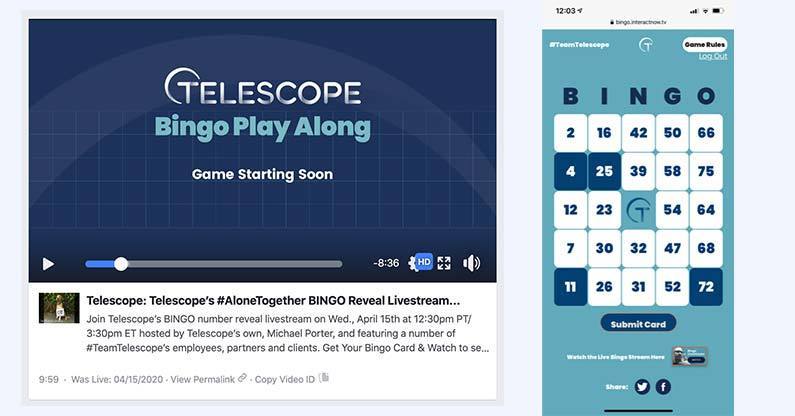 Telescope has been creating digital solutions perfect for event-based campaigns such as VIP booths and exhibits. While in-person events are currently on hold, we are starting to see smaller, more VIP style satellite activations. These events are able to accommodate social distancing and include the "buzzy" hero elements that engage audiences on-site and from the comfort of their homes. We have developed non-intrusive data collection, amplification of user generated content , AR elements as well as exciting concepts around live play-along trivia, interactive scavenger hunts, impactful voting campaigns and stand out consumer activities , like interactive kiosks.  The interactive kiosk is a fun and engaging way to allow social distancing, because it can be cleaned after every user. The kiosk can also be used for data collection, user generated content, gamification and sweepstakes .
Last year, Telescope created an interactive kiosk campaign with Coppola Wines at a VIP Sundance Film Festival event. The experience was created and consumed by both on-site VIP users and at-home users. Working hand-in-hand with the brand, we helped elevate their celebration of Francis Ford Coppola's 80th birthday by building out the "Risk Takers" campaign. Telescope created a content piece highlighting Coppola's greatest moments in cinema as an introduction and through a camera that was embedded into the kiosk, we prompted users to then create a short one-minute video where they described the biggest risks they took in their lives.  Through our Uploader and Fan Feed Products, we captured all of the content and displayed the user videos in our gallery. In addition, Telescope designed and produced the Native App UI that was used on the devices as well as the branded kiosk wraps.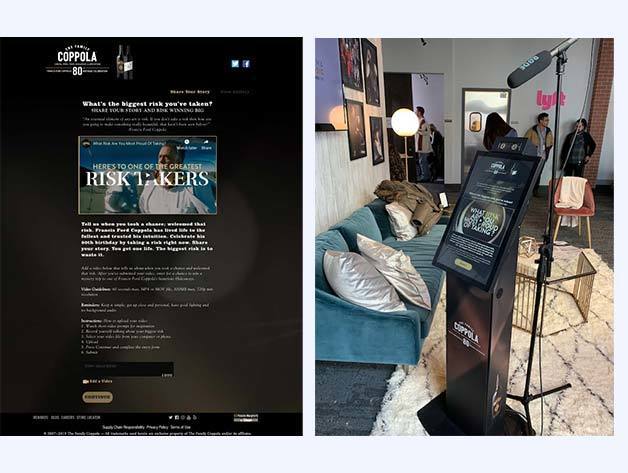 Telescope has worked with some of the biggest names in sports, entertainment, music and TV in creating award-winning live streaming productions for years. We have a proprietary software solution for livestreaming called " Live Studio " that allows us to run streaming campaigns across social channels, cross-post, plus layer on various gamification options like real-time voting, polling , trivia, donations, sweepstakes, Q&A's and more. Pre-COVID, we were able to travel to the actual shoots and facilitate everything on site but in our current reality, we quickly assemble fly-kits which we then can send to our clients to create full remote live productions. For some event marketers, we have been able to replicate the in-person experience using live-streaming and influencers. No campaign exemplifies that more than our work with Jackbox for their " Celebrity Jackbox: Games & Giving " Nights on Twitch.
Yes, even celebrities and their weekly board games have had to move online during this time.  Luckily, through the magic of Telescope, we are able to work with Jackbox Games on producing this multiple-camera shoot remotely , while also letting these celebrities see and hear each other during the games. Custom graphics facilitate clear calls to actions that help at-home fans not only play along but also give back via call-outs to the weekly donation link making it a truly interactive experience with the audience.  Each week Jackbox Games makes a donation of $100,000 to a featured organization. Going forward, we predict more marketers will use live streaming to enhance events, festivals, concerts, along with connecting various satellite events in different cities, promoting interaction with each other long after the pandemic ends.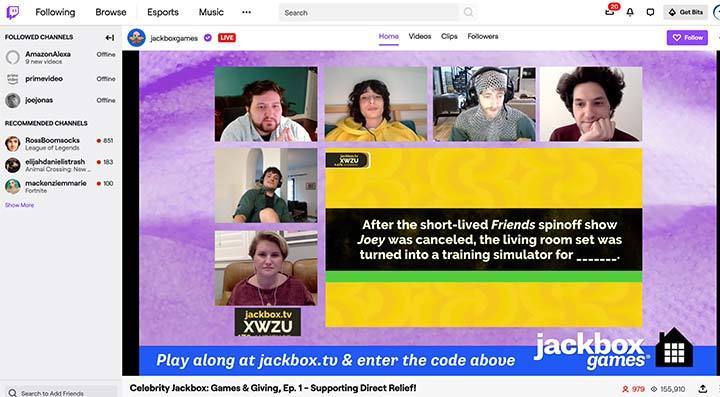 So far, in just the past couple of months we have been asked (and we have answered the call) to create virtual parades, graduations, pub crawls, gameshows, graduation parties and much more. The more creative, the bigger the virtual puzzle to figure out - the better!  Our team is here to help marketers create new and interesting ways to host events in our new normal. One example of this is our work with CrowdfunderUK in England, where we partnered with the fundraising platform and a number of the UK's finest comedians to create a virtual comedy show. Fans made a donation in exchange for a one-time use code that would allow them access to the virtual pub trivia livestream. Once inside, they were able to watch top comedians, play pub trivia just below the embedded livestream video, have a few laughs and raise money for a good cause.  It doesn't hurt that we also set a new Guinness World Record for largest virtual pub.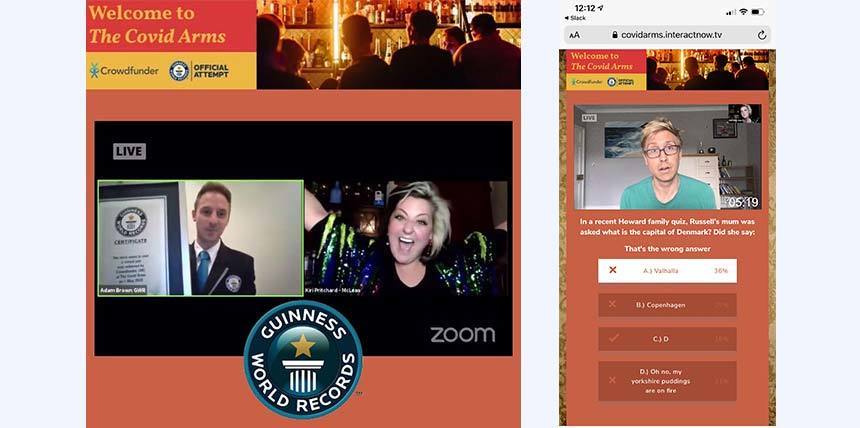 Beyond this experience, we are also enabling marketers to create virtual interactive rooms where people can be on video chats together (similar to Zoom), watch content or streams together or even participate in a play-along experience all from the privacy of a gated or passcode protected environment. Imagine the thrill of enjoying a private concert with your favorite artist while sitting in a room with your best buds. With Telescope, marketers have the ability to host numerous rooms for events or conferences, and encourage people to be social by interacting with various people in themed rooms. These could serve as virtual breakout rooms for conferences or even different music genre room for group karaoke.  The ideas are endless, and marketers are getting craftier and craftier on how to use this new experience both in the B2B and B2C worlds.
As the world has to pivot, we will continue to pivot along-side our clients with our digital, live-streaming, play-along and virtual solutions. We are able to work with some of the brightest minds in the world and will continue to allow these thinkers to find new and innovative ways to make their campaigns come to life, their events happen, and their wildest dreams come true.
BACK TO BLOG & NEWS